When online betting first emerged, it changed the way players wagered on game outcomes forever, opening the doors to 24/7 betting regardless of where the match or tournament was being held.
Short on time?
Go straight to our top pick. For the best all-around Bitcoin betting experience, FortuneJack is our top pick.
Now, Bitcoin is shaking up the way we place bets – lowering fees, shortening withdrawal times, and making foreign exchange fees a thing of the past.
But there are so many bitcoin sport betting sites to choose from, that sometimes it's impossible to find one which is secure, fun to play, and offers a wide variety of sports to bet on.
That's why we've reviewed five of the top bitcoin betting sites for 2022, and we're going to give you our complete breakdown of their pros and cons.
But first, let's take a quick look at what Bitcoin sports betting is, and why you should give it a try!
What is Bitcoin Sports Betting?
Like crypto gambling and bitcoin casinos, sports betting (also known as sportsbook) lets you gamble and place bets with cryptocurrencies. The most popular crypto used for betting is Bitcoin, however, there are multiple operators that let you place bets with a variety of cryptocurrencies.
Just like placing bets on traditional sportsbook operators, such as Coral or William Hill, Bitcoin sports betting lets players place a bet on the outcome of a real-world sporting event.
When we say 'real-world', we mean any event played competitively between two or more players – because as we'll find out a little later, you can also use Bitcoin betting to speculate on video game tournaments, or 'Esports'.
Sometimes, bet makers will let players place wagers on other events, such as the outcome of an election, the results of reality TV series, or even the weather.
Bitcoin sports betting generally offers lower or non-existent fees for deposits and withdrawals, much faster transaction processing times, and greater transparency. This means that players will often get their winnings instantly, without waiting days for withdrawals like on many traditional betting sites.
There are also huge benefits to those who want to protect their privacy online, as most Bitcoin betting websites won't require personal or payment information from you in order to start playing.
Our Picks – The Top Bitcoin Sports Betting Sites
So, what are the top Bitcoin sports betting sites for 2022? Let's find out! See our top picks in the table below, or scroll down to read a review of each site.
| | Betting Site | Noteworthy Features | Play |
| --- | --- | --- | --- |
| 1 | | Multiple cryptocurrencies supported, comprehensive sportsbook feature, niche sports, one of the longest-serving sportsbooks. | |
| 2 | | BTC and BCH supported, bet on major tournaments, esports betting, good security. | |
| 3 | | Great sportsbook features, attractive and easy to use, esports betting, good reputation. | |
| 4 | | Great range of sports, modern-looking and visually-appealing, good range of cryptocurrencies supported, esports betting, Crypto Gambling Foundation verified operator. | |
| 5 | | Huge range of supported cryptocurrencies, massive variety of both popular and niche games, special bets, esports betting. | |
Established in 2014, FortuneJack is a hybrid crypto casino and bitcoin betting site, with a massively popular sportsbook feature.
Self-styled as the "number one" bitcoin betting and gambling site, FortuneJack is indeed one of the largest and best-known crypto gambling sites on the web, attracting thousands of users every day.
Unfortunately, FortuneJack restricts access to players from the United Kingdom, Australia, Spain, Italy, Sweden, and the United States – although you may be able to bypass these restrictions with a VPN.
Which Cryptos Does FortuneJack Support?
You can only place bets on FortuneJack using cryptocurrency. There are no other ways to credit your account, so if you want to start using the site, make sure you know how to buy Bitcoin – if you don't, follow our guide here.
One of the features many players love about FortuneJack is their huge number of supported crypto assets, which is particularly useful if you have a lot of crypto dust leftover in your wallets. These include:
Bitcoin
Ethereum
Dash (DASH)
Litecoin
Dogecoin (DOGE)
Monero (XMR)
Bitcoin Cash (BCH)
Tron
Zcash (ZEC)
Many of the sites on our list accept a range of different cryptos, which is handy for those who also hold digital assets as a speculative investment – as some days it might make more sense to place a bet with an alt-coin rather than Bitcoin, or vice versa.
FortuneJack Sportsbook
FortuneJack has a hugely comprehensive sportsbook feature, with access to more games and tournaments than most people probably ever knew existed!
Players can place bets on popular football leagues from around the world, such as FIFA, the Premier League, and national leagues like the German Bundesliga and the Belarusian Premier League.
There are also betting opportunities for other popular sports, such as American football NFL leagues, the NBA basketball league, tennis matches, and baseball.
If niche sports are your favorite to place bets on, you won't be disappointed. FortuneJack offers plenty of choices, including:
Cycling
Golf
Snooker
Darts
Volleyball
Badminton
Handball
There's also the opportunity to bet on cultural events, such as upcoming elections, reality TV results, and much more at different times of the year.
With such a large variety of events to choose from, it's easy to see why FortuneJack has become the most popular Bitcoin betting platform.
Is FortuneJack Safe?
As one of the longest-serving sportsbooks and bitcoin casinos, FortuneJack has built a solid reputation for transparency and safety, both with users' funds and with the stability of their betting platform.
Deposits and withdrawals are processed instantly on FortuneJack, which is great news following a big win, or when you're racing to place your bets ahead of a match – there's no waiting for lengthy bank transfers, and FortuneJack never withholds your winnings.
FortuneJack Verdict
Not only is FortuneJack easy to sign-up and get started with, but it's also one of the safest and most well-established crypto betting sites – easy to use even for beginners.
Although FortuneJack doesn't offer Esports betting, it's Bitcoin sports betting is one of the most comprehensive and feature-rich in the world.
We don't feel that a lack of Esports makes FortuneJack any less enticing – in fact, it's the perfect Bitcoin sports betting site for those who know exactly which sports games they want to place a bet on, and want the opportunity to do it in Bitcoin.
CloudBet is one of the longest-serving Bitcoin sports betting and casino sites, launched in 2013. The site offers traditional sports betting, Esports, and a large Bitcoin casino which you can read more about here.
The site has recently started offering Bitcoin betting on Esports matches, which has made the site hugely popular, and seriously enhanced the betting experience CloudBet offers.
While CloudBet used to be a true Bitcoin betting site, supporting just two cryptocurrencies – Bitcoin and one of its early forks, Bitcoin Cash, it has now expanded its support with many additional cryptos added. CloudBet now supports BTC, ETH, BCH, USDT, USDC, PAX, PAXG, LINK, DAI, DASH, DOGE, and LTC, along with even more new coins announced in February 2022:
CloudBet Sportsbook
CloudBet was among the first operators to offer Bitcoin sports betting, with their sportsbook feature launching at the same time as their casino in 2013.
Over the past seven years, CloudBet has constantly remained at the forefront of crypto sports betting, offering a huge range of sporting events and all major tournaments.
Major tournaments players can bet on at CloudBet include:
NBA basketball tournaments
NFL American football
Rugby Union matches
UEFA and other major football tournaments
Players can also place Bitcoin bets on darts, boxing, mixed martial arts, table tennis, and a huge range of other sports on CloudBet.
One of the features we think is particularly useful is CloudBet's 'In-Play' section. This view shows players every single live game taking place around the world, and while games are still in play, CloudBet users have the opportunity to place a bet with the latest odds.
Odds are constantly changing for live games, indicated by green and red flashing bars on the odds table for each game. It's quite an innovative feature, as it allows players to make the most of opportunities when odds suddenly change.
CloudBet Esports Betting
CloudBet's range of Esports titles is outstanding, which is one of the key reasons the site still remains so popular even into 2022.
Alongside all of the popular Esports titles that other sites offer, such as Dota 2, CS:GO, and League of Legends, CloudBet also lets players place bets on FIFA cyber matches, NBA cyber, and other niche Esports.
The Bitcoin betting site has such a focus on Esports, that they've even launched their own dedicated Discord server to discuss upcoming tournaments, share tips about bets, and discuss the outcomes of games.
Is Cloudbet Safe?
It's fair to say that Cloudbet has one of the most transparent and trusted user safety protocols of any Bitcoin sportsbook.
As we mentioned, Cloudbet is one of the oldest Bitcoin gambling sites, staying true to its roots in the early blockchain scene and sticking to Bitcoin and Bitcoin Cash. When you trust your assets with Cloudbet, they use their hard-earned expertise to keep your funds safe.
They achieve this through dedicated cold storage wallets, which keep your funds offline in highly secure hardware wallets, virtually impervious to would-be attackers and Bitcoin thieves.
Cloudbet only uses hot wallets to process user withdrawals, moving just a fraction of their player's pool of assets online at any one time. This protects each user against losses, even in the event of an attack.
Cloudbet Verdict
There's a reason this veteran Bitcoin gambling site has powered on all the way into 2022 – it's a feature-rich site with a massive range of popular sports, Esports, and unique games to bet on.
If you're an Esports fan who likes to feel part of the action, then Cloudbet is definitely the place for you, why not check out their Discord server to see which games are in play right now?
Built by blockchain experts, Cloudbet can easily claim to be one of the safest destinations to bet using Bitcoin, and its transparency on fund security is refreshing.
With a license in both the United Kingdom as a standard betting site, and in Curaçao for Bitcoin betting, Sportsbet.io is one of the leading Bitcoin gambling and casino sites.
The site is owned by mBet Solutions, the same provider that runs Bitcasino.io, a highly popular crypto gambling site.
The Sportsbet.io team has years of experience delivering sportsbook solutions to traditional fiat betting, and now they've pivoted to provide betting solutions for Bitcoin holders.
Sportsbet.io accepts players from multiple jurisdictions and offers free cryptocurrency deposits and withdrawals.
Which Cryptos Does Sportsbet.io Support?
Like other crypto betting sites on our list, Sportsbet.io supports a range of cryptocurrencies in addition to Bitcoin.
Players can deposit and play with the following cryptocurrencies:
Bitcoin (BTC)
Ethereum (ETH)
Litecoin (LTC)
Tron (TRX)
Ripple (XRP)
Tether (USDT)
It's easy to create an account on Sportsbet, and all you need to provide is your email to get started – so there's no need to reveal your personal information.
Sportsbet.io Sportsbook
With one of the largest sportsbook features of any Bitcoin betting site, Sportsbet.io offers some of the best opportunities for players who enjoy betting on anything from huge football matches to chess tournaments, or even horse racing.
Sportsbook.io has created an attractive and easy-to-use Bitcoin sports betting platform, which has one of the best user interfaces out of all the Bitcoin betting sites. Along the top of the site, there's an easy-to-navigate bar where players can access all of the sports betting options.
It's easy to see the odds of any bet, and players can also place multiple bets at one time using Sportsbet's 'Multibet' feature – which makes it quite easy to set all your bets for the day at once.
Sportsbet.io Esports
Esports stands for 'electronic sports', and covers any game or tournament played through video games rather than a traditional 'real-life' game. A huge and growing spectator sport, in 2019 an estimated 1.57 billion people watched at least one Esports match.
These multiplayer games, where single players or teams compete for huge cash prizes, are becoming a popular game type to place bets on, and cryptocurrency lends itself particularly well to this new digital sport.
Sportsbet.io were among the first Bitcoin betting sites in the world to offer players bets on Esports titles, first for eSoccer – virtual football games played around the world – and more recently they've added a whole host of other popular Esports titles.
Now, Sportsbet offers multiple major Esports games that players can place a bet on, including:
CounterStrike: GO (CS:GO)
Defense of the Ancients 2 (DOTA 2)
King of Glory
League of Legends
Rainbow Six
StarCraft 2
Placing a bet on an Esports game is similar to other real-life sports betting, and players can also place bets mid-game through Sportsbet.
Is Sportsbet.io Safe?
As part of the mBit group, Sportsbet.io is considered one of the most professional and safe Bitcoin sports betting sites in the world.
The site is registered in the Isle of Man and regulated by the UK Gambling Commission – one of the strictest and most trusted gambling regulatory bodies in the world, so customers can rest assured that they are protected when playing.
Likewise, Sportsbet's regulated nature means it's open to players in the United Kingdom through the Sportsbetio.uk site, which many other Bitcoin betting sites aren't. If you need a hand, Sportsbet.io offers 24/7 live chat support to all customers.
Sportsbet.io Verdict
Sportsbet.io is a feature-rich Bitcoin betting site, with plenty of game options, tournaments, Esports, and sportsbook features to keep players entertained.
The winning feature of Sportsbook.io has to be its regulation status. As one of the few Bitcoin betting sites registered and regulated in the UK, it's not only one of the safest sites, but it's also open to UK players without jumping through hoops – a huge plus.
Launched in 2017, Stake.com is one of the youngest Bitcoin sportsbook sites on our list. The site offers a massive range of Bitcoin sports betting, as well as a casino section dedicated to crypto gambling, with a decent range of games.
Originally a pure Bitcoin casino, Stake.com launched its brand-new sportsbook feature in December 2019 after signing a two-year deal with Sportradar – a leading sports data company based in Switzerland – to license their Betradar software.
Players will immediately notice that Stake.com is one of the most modern-looking and visually-appealing Bitcoin betting sites, with a really simple and intuitive user interface – making this Bitcoin sportsbook site perfect for beginners.
So, is this newcomer to the Bitcoin betting space poised to be a serious competitor in the future? Let's find out.
Which Cryptos Does Stake.com Support?
Like some of the other crypto betting sites on our list, Stake.com only supports payments in cryptocurrencies on their site – there are currently no ways to credit your account in fiat.
But, players can credit their account in a range of cryptocurrencies, including:
Bitcoin
Ethereum
Litecoin
Ripple
Tron
BitcoinCash
To start playing, you only have to provide a username, password, and email address, so there's no need to give away your personal information if you'd rather preserve your privacy.
Alternatively, you can easily signup with Facebook, Google, or Twitch.
Stake.com Sportsbook
As Stake.com's sportsbook is operated by Betradar, there's always live games and plenty of betting options to choose from.
Because of their partnership, even though Stake's sportsbook feature is brand-new, it's incredibly well designed and easy to use.
Likewise, all of the game data is pulled directly from Betradar, providing one of the most up-to-the-minute coverage of all major sporting events.
Stake.com also regularly has betting bonuses, such as double winnings on certain games, which are fairly rare among the other Bitcoin betting sites we've looked at.
Stake.com Esports Betting
If you're a big Esports fan, then Stake.com is well worth checking out. The site features some huge Esports leagues and tournaments from some of the leading competitive games in the world.
The full list of Esports tournaments you can bet on at Stake.com includes:
Counter-Strike
Dota 2
League of Legends
King of Glory
Rainbow Six
Starcraft
Is Stake.com Safe?
Stake.com is a Crypto Gambling Foundation verified operator, which is committed to providing provably fair and transparent betting.
There's no mention of how users' funds are stored safely on Stake.com, however, its partnership with Sportradar, one of the industry's largest sports betting operators, is a good sign that the betting site takes its technology seriously.
Nevertheless, as Stake.com is still a fairly new and unproven Bitcoin betting site, players should use caution before transferring a large amount of crypto to the platform.
Stake.com Verdict
It's still early days for Stake.com's sportsbook, but overall the betting site is shaping up to be one of the most exciting places to place bets in Bitcoin.
We really loved Stake.com's interface, which was no-frills and easy to navigate, great for beginners or experienced users alike.
With its professional backing by Sportradar, Stake.com is sure to continue innovating and providing quality sportsbook content over the next couple of years.
Established in 2016, 1xBit.com has grown into one of the most popular destinations for crypto sports betting, mainly due to its huge range of supported cryptocurrencies and massive event coverage.
Bets on 1xBit.com are placed entirely in cryptocurrency, and there's currently no way to place bets using fiat, but this is perfect for those looking to preserve their privacy.
1xBit.com offers no-fee deposits and withdrawals for players, an attractive feature that makes betting with Bitcoin an even more cost-effective way to play.
Which Cryptos Does 1xBit Support?
There's a huge range of crypto's supported on 1xBit, over 20 in total, including large market cap cryptos such as:
Bitcoin (BTC)
Bitcoin Cash (BCH)
Ethereum (ETH)
Monero (XMR)
Litecoin (LTC)
Dash (DASH)
Ripple (XRP)
Users can also credit their account with smaller market cap coins like NEM and Verge, and even stablecoins such as Tether (USDT).
Players can deposit through LocalBitcoins.com, Crex24, CoinCheck, NovaDAX, Luno, and over 50 other crypto payment providers.
1xBit Sportsbook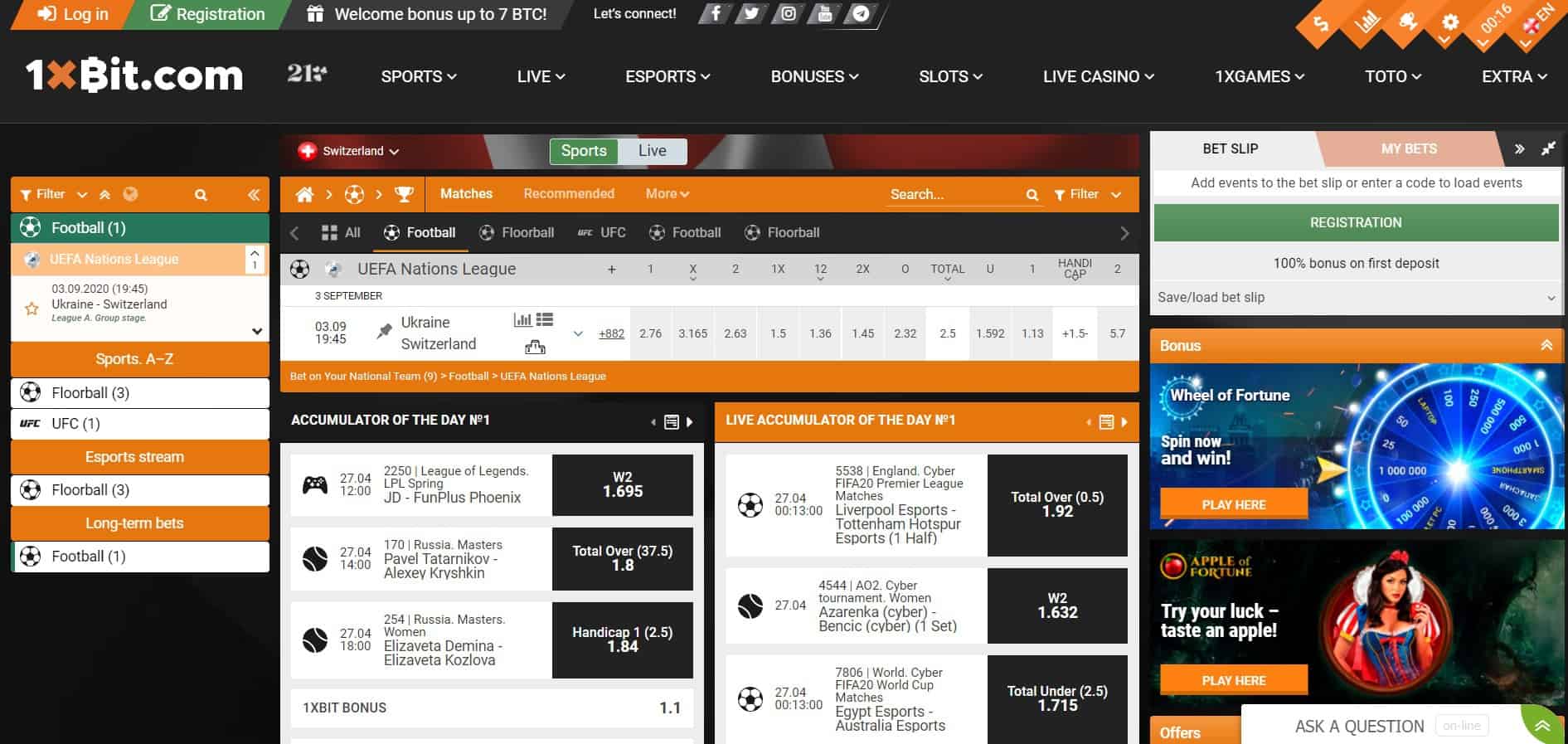 Gamer's looking to place a bet on a sporting match will be spoilt for choice on 1xBit, with a massive variety of both popular and niche games to bet on.
1xBit enables Bitcoin betting on major sporting events such as football, tennis, rugby, basketball, and American football, but also other game types which have typically been favorites among bettors, including:
Horse racing
Greyhound racing
Boxing
UFC tournaments
Motorsports
Golf
Cricket
Darts
There's also plenty of other niche sports players can place bets on, like surfing, hurling, sailing, chess, and water polo to name a few. In total, 1xBit offers Bitcoin sports betting on over 30 different sporting events.
Special Bitcoin Betting on 1xBit
Another popular feature of 1xBit is their sometimes weird and wonderful collection of specialty betting opportunities, some of which can't be found anywhere else!
These include crazy wagers such as 'Company to put human beings on Mars first?', where players can bet big on the likes of SpaceX, Blue Origin, Boeing, or the US Space Force; or even totally out of this world bets such as the discovery that the Earth is flat by 2025!
However, 1xBit's bets aren't all that crazy. There are also some very timely and relevant betting opportunities, such as whether there will be a creation of a COVID-19 vaccine by May 2022, or whether Eminem will appear to give a 30-minute video concert to his fans during Coronavirus lockdown.
The huge number of specialty bets is a unique feature, which makes 1xBit.com stand out among competitors, despite having many of the same Esports and sports titles.
1xBit Esports Betting
Like other bitcoin betting sites on our list, 1xBit.com also offers players the opportunity to place bets on Esports matches.
1xBit features betting for both electronic versions of traditional sports, like football tournaments and basketball, and also a huge range of video game tournaments – over 300 separate leagues to choose from at the time of writing.
There cover most major Esports titles, including:
CS:GO
DOTA 2
King of Glory
League of Legends
Overwatch
Rainbow Six
StarCraft 2
Is 1xBit Safe?
There's not much information about 1xBit's safety practices and fund custody on its site, which may be a little off-putting at first.
However, we think the betting site, which has been running for over four years without a security breach, is generally a safe and secure site to use, with good user reviews overall.
It's also very easy to get hold of a 1xBit customer service representative through its live chat feature, which is very useful if you run into an issue while placing a bet.
1xBit Verdict
If you're a more advanced Bitcoin betting enthusiast, then you're probably going to love 1xBit.com. Its massive range of betting options really goes above and beyond the standard Bitcoin sports betting, so it's suitable for regular players looking for something a little different.
However, as 1xBit.com is quite crypto-heavy, and offers a lot of different betting options, it's probably going to be a little overwhelming for players who are brand-new to the Bitcoin betting world.
We also think that 1xBit's interface is a little busy, with many major features slightly harder to find than other sites.
Which Is the Best Bitcoin Betting Site for You?
So, who takes home the crown? Let's take a look at which site comes out on top for a few different features, and then name an overall winner.
Largest Variety of Betting Options
If you're looking for Bitcoin betting with a little more variety, you're going to want to check out 1xBit.com. We highly recommend their special betting types, which are totally unique and definitely sure to inject a little bit of fun into your betting experience!
Similarly, 1xBit.com has the most supported cryptos of any site on our list. If you're an alt-coin maximalist, or you don't want to spend your Bitcoin, you can still access 1xBit's huge range of betting options through another digital asset.
Overall, 1xBit.com wins for variety, but it's mainly suited to experienced players.
FortuneJack is without a doubt one of the easiest Bitcoin sports betting sites to navigate and use. Their simple interface will be highly familiar to players who are already used to traditional betting sites, and it's easy to place bets and create an account.
Looks-wise, Stake.com has also created both an easily navigable and visually exciting betting site, which focuses on simplicity and usability – and it looks great on mobile too. There's a handy button to show all live games in the top left-hand corner, which makes tracking the status of your open bets incredibly easy.
Stake.com's chat feature, which connects you with other live players on their site, is also a very fun feature that we think other bitcoin betting sites could learn from, and it's a great way to pass the time while you're waiting for a bet to settle or a match to finish.
For beginners, Stake.com is a perfect choice, as the options are slightly more limited than FortuneJack, so you can learn the Bitcoin betting ropes with ease.
For intermediate and advanced players, FortuneJack is definitely the perfect choice.
CloudBet is one of the most secure Bitcoin betting sites, guaranteeing high-level fund security for users deposits. Likewise, their long track record of delivering an excellent and safe sportsbook experience is a massive attraction to some users.
We think that other Bitcoin sports betting sites could learn from CloudBet and be upfront with users about how funds are stored when they're on the platform, as most other sites don't communicate this – which could be off-putting for some crypto enthusiasts.
FortuneJack is also a highly trusted and safe betting site, with an impeccable security record and a dedicated customer service team on hand to help with any issues.
Which Is the Best Site for Sports Betting?
For an all-around great Bitcoin sports betting experience, FortuneJack is our overall winner. Its position as one of the leading and most-trusted bitcoin betting sites has been solidified through access to a massive range of sports and tournaments, as well as a good variety of niche sports.
FortuneJack doesn't currently have an Esports section, which is slightly disappointing given the growing popularity of video game tournaments, and the huge amount of spectators who tune-in globally to watch them.
Nevertheless, it's long-running position as the leading Bitcoin sportsbook, alongside its regular addition of innovative features and a seamless user experience, puts FortuneJack firmly in first place.
If you're looking to start your Bitcoin betting experience, we'd highly recommend giving FortuneJack a try!
Disclosure: Blokt strives to provide transparent, honest reviews, and opinions. The writer of this article is a user of the product(s) or service(s) mentioned in this article and was not influenced by the respective owners.
We rarely run ads, but sometimes earn a small commission when you purchase a product or service via a link on our site. Thank you kindly for your support.
Read more or donate here.