If you're looking to get a VPN for your android smartphone or tablet, what is the best choice in 2023? In this article, we are going to introduce you to our 4 favorites.
Desktop users have long used virtual private networks (VPNs), to mask their internet usage history. Although many users may claim they have nothing of interest to hide, VPNs are a useful tool for all internet users, as they mask potentially sensitive data from would-be hackers and criminals.
But, what if you mainly use mobile devices to browse the internet, make purchases, or send money? Can you still use a VPN?
The good news is yes – there are multiple VPNs available for mobile users. However, not all VPNs are created equally, with some offering a much greater depth of features. Actually, none of our best android VPNs are just for android, nowadays the best VPN services always have many different options when it comes to OS and devices.
Our picks below are trustworthy VPNs with a solid history and strong reputations. All are proven to work well with Android devices and allow users to browse, stream, game, and much more with their privacy protected.
Founding and Overview of NordVPN
Established in 2012, NordVPN was started by four friends who wanted to deliver Tim Berners-Lee's original vision of the private internet.
Today, eleven years later, NordVPN serves over 12 million people worldwide. NordVPN claims that it doesn't keep any logs on its clients, and never stores or provides personal information about its users.
NordVPN currently serves 62 countries, has over 5,000 active servers, and allows its customers to select a specific server for a multitude of reasons.
Even though awareness of security online has increased, in November 2023, a NordVPN survey showed that nearly 34 million people in America fell victim to scams on Black Friday. A VPN can help prevent scams by securing otherwise unsecure connections, preventing scammers from getting information that you don't want them to have.
In 2018, NordVPN was awarded the editors' choice award from PC Mag for best desktop VPN. But how does it fare on Android devices?
Android users can download NordVPN from the Google Play App Store for free, but membership is required as we'll discuss later. The app has got a modern design and a simple layout that is easy to navigate.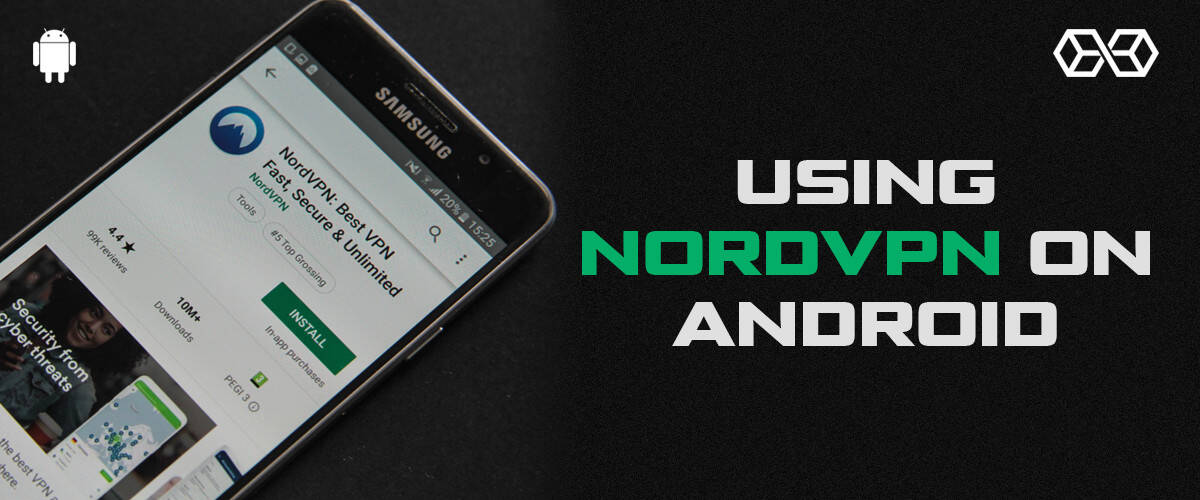 Once installed, users can select which server they want to connect to from an interactive map within the app, or likewise, can let NordVPN automatically 'Quick Connect' to a server that would suit you best.
To sign up for a NordVPN account, you will need an email address, but you can always set up a dummy address if you're particularly concerned about privacy – just be mindful that you won't be able to contact customer service if you do.
By accessing the settings (the gear icon in the upper left corner of the app), users can set more advanced features such as forced TCP connections, CyberSec, and obfuscated server connections. Unfortunately, the Android version doesn't feature a kill switch to stop network communications.
How much does NordVPN for Android cost?
So, what does it cost? Monthly, NordVPN comes in as one of the most pricey Android VPNs on the market, at $11.95 per month. This is somewhat offset by a free trial period, and a 30-day money-back period if you don't like the service.

Instead, like many SaaS providers, NordVPN offers significant savings for users who pay in a lump sum, with those who pay for a 3-year plan paying the equivalent of just $2.99 per month.
Pros
Cons

Has scored highly in speed tests
Over 5,000 servers
P2P networking allowed
Free trial period
Unblocks Netflix

The Android version doesn't come with ad blocking.
Get NordVPN
Founding and Overview of ExpressVPN
Based in the British Virgin Islands, ExpressVPN launched in 2009, and now has over 3,000 servers, serves 94 countries, and has a well-developed app for Android users. Recently, ExpressVPN has taken a proactive approach to offering a modern VPN service for a wide range of users.
Using ExpressVPN for Android
Android users can find ExpressVPN via the app store, installation is simple and sign-up takes literally seconds – all you need to provide is an email address, and grant permission to ExpressVPN to monitor your network. The app is easy to use and looks great.
The ExpressVPN Android app lets users pick their preferred server location, but unlike the desktop version, it doesn't display server speeds. Split tunneling support allows Android users to turn off ExpressVPN for certain apps whose usage may be restricted through a VPN.
ExpressVPN secures customer data using 256-bit AES encryption, one of the strongest methods of data encryption available, and likewise, ExpressVPN uses its own DNS servers for added protection.
Similarly, ExpressVPN never holds any information about their users, including traffic data, visited websites, your true IP or DNS queries. Overall, ExpressVPN offers some of the most unparalleled security credentials of any VPN service.
How much does ExpressVPN for Android cost?
ExpressVPN is more expensive than NordVPN, at either $12.95 per month or $8.32/Month if you pay for a year upfront. It does offer a free 7-day trial, and also 30 days free for referring a friend.
Is this higher price worth it? ExpressVPN Android users do have access to 24/7, 365 real expert live support, and also provide workarounds for customers looking to bypass Netflix geoblock, a big selling point for those in regions where the video streaming service is blocked.
Pros
Cons

Serves over 90 countries
Over 3,000 servers
24/7 live chat support
256-bit AES encryption
Unblocks Netflix

Only supports 3 devices at a time
Comparatively expensive
Get ExpressVPN
Founding and Overview of IPVanish
IPVanish was founded in 1999 as 'Mudhook Marketing' and has since innovated in the privacy space and become one of the top VPN providers worldwide.
Currently, IPVanish runs over 1,300 servers in over 75 different countries. The main geographic areas IPVanish focuses on are Europe and North America.
Using IPVanish for Android
Like our other VPN services, IPVanish can be downloaded from the Android app store quickly and easily, with over 1 million downloads to date. The app is well designed, although not as visually appealing as ExpressVPN or NordVPN, however, what we're really interested in is its utility.
IPVanish is highly popular as it allows up to 10 connected devices per user, whereas other providers usually allow less than 5. Its security includes AES-256 encryption and supports OpenVPN and IKEv2 security protocols. IPVanish also boasts some of the highest speeds from local servers in the industry.
Like others on our list, IPVanish never records or log any user data, either location, traffic or activity data.
See a breakdown of IPVanish Vs Expressvpn for more details.
How much does IPVanish for Android cost?
Offering a mid-range price bracket, users can access IPVanish for $7.50 per month, or $4.87 per month if you pre-pay for an entire year; which whilst not as cheap as NordVPN, is still on the inexpensive end of subscription prices.
However, payments are limited to bank cards or PayPal, which is a departure from complete privacy, and not as anonymous as VPNs that accept Bitcoin payments.
Pros
Cons

Unblocks Netflix
AES-256, OpenVPN and IKEv2 security
10 connections
High speeds

Doesn't accept crypto payments
Basic Android app
Get IPVanish
Founding and Overview of ProtonVPN
ProtonVPN, founded by the same team behind ProtonMail which was founded in 2014, began in CERN, just like the internet itself did many years before, and is headquartered in Geneva, Switzerland.
A fairly new VPN, so far, ProtonVPN offers its services in 33 countries, across 404 servers with a 473 Gbps capacity. This does put it at a much lower capacity than others on our list.
Using ProtonVPN for Android
Although ProtonVPN is a fairly new offering, its mobile app, available on the Android app store, looks and functions great. It has got most of the features of the more established VPNs, including split tunneling,
ProtonVPN doesn't log user activity, and users can pay in Bitcoin. ProtonVPN uses IKEv2 and OpenVPN protocol to maintain security and privacy.
How much does ProtonVPN for Android cost?
The most basic features are free. Yes – completely free with unlimited bandwidth, and according to ProtonVPN, it always will be. However, the old saying "You get what you pay for" is somewhat true here, as the free plan allows access for just one device and servers in only three countries.
Other plans include the ProtonVPN Plus Plan, which covers 5 devices, and is $10 a month, or $6.63 paid every two years.
Pros
Cons

Unblocks Netflix
Unlimited free bandwidth plan
Free
Split tunneling

Limited server access
Low number of supported countries
Get ProtonVPN
Every VPN we've reviewed has a number of pros and cons, but the obvious question is, which is the best VPN for Android?
Although it comes in a little more expensive than others, ExpressVPN offers an excellent VPN service to Android users, with some of the best features. Unparalleled security, through 256-bit AES encryption, ease of access, and perhaps the best customer support in the whole industry, combines to make ExpressVPN our top choice, the best VPN for Android users.

That's not to say the other VPNs we've reviewed aren't worth using. NordVPN is one of the most trusted VPNs worldwide, and at just $2.99 for a three-year subscription, is a seriously cost-effective solution for everyday users.
Likewise, ProtonVPN could truly be one to watch, as its free service is proving popular, and although it's got limited functionality compared to other VPN providers on our list, it's well poised to become a big player in the VPN landscape.
Disclosure: Blokt strives to provide transparent, honest reviews, and opinions. The writer of this article is a user of the product(s) or service(s) mentioned in this article and was not influenced by the respective owners.
We rarely run ads, but sometimes earn a small commission when you purchase a product or service via a link on our site. Thank you kindly for your support.
Read more or donate here.