Some VPNs call themselves the most secure; some call themselves the best; this VPN calls itself the fastest. This is a big claim because if it turns out that it is not the fastest, it will lose a lot of credibility don't you think? And of course we found out that it is not the fastest.
Well, it wouldn't be the first VPN to claim that it is something that it's not. The main thing we care about here is that it is fast enough while also being safe, secure, and functional. Let's see if FastestVPN really is the fastest or a good service overall.
To understand FastestVPN, you must first understand what a VPN is and what it does. A VPN is a virtual private network. These exist to disguise your identity and keep you safe while browsing online. The government, ISPs, and hackers have their eyes on everything we do, and more often than you would like to believe, your privacy is not safe on the internet.
A VPN will take your real IP address and disguise it with one from a different country. This process will protect your identity and not allow people to track you down. FastestVPN does this with a variety of features like no logging, kill switch, 256-bit encryption, and unlimited bandwidth. It even comes with an adblocker.
Some Benefits of FastestVPN
Here are all the benefits listed directly on FastestVPN's website:
AdBlocker
NAT Firewall
No log policy
Ten multi logins
Internet kill switch
Browser extensions
Malware protection
P2P optimized servers
Unlimited bandwidth
256-bit AES encryption
24/7 customer support
15-day money-back guarantee
There are a lot of benefits worth mentioning from that list. We'll dive deeper into everything further down the article, so make sure you keep reading. FastestVPN works with a good amount of operating systems and devices:
Windows
Linux
Roku
Kodi
Amazon
Apple TV, Fire TV, Smart TV, PS4, and more
Get FastestVPN
We were surprised to find out that FastestVPN is also one of the cheapest VPNs available. But, that's only if you go for a lengthy five-year package. Its short-term prices are in the low to mid range area. Here is a breakdown of FastestVPN's pricing:
One-month plan – $10 per month
One-year plan – $2.49 per month/ $29.95 billed annually
Three-year plan – $1.11 per month/ $39.95 billed triennially
Five-year plan – $0.83 per month/ $49.95 billed every five years
$49.95 is extremely cheap for five year, with some VPN services costing more than that for one year. However, despite the low price, do the benefits of FastestVPN outweigh the cost? FastestVPN does not offer any type of free trial, but it does give you a 15-day money back guarantee.
What We Like About FastestVPN
There are a lot of great features to talk about with this VPN. The service provides anonymity and security, plus its location is a significant plus. Let's get started.
We all love the Cayman Islands for its beautiful beaches, abundant sunshine, and fun vibes. There are other reasons to love this country as well, and one is because of its privacy laws.
This island takes privacy seriously, so it does not disclose any information with anyone. It is not part of the five eyes, nine eyes, or fourteen eyes either. While this alone will not protect your identity, these small details help you get a sense of the intentions of the company.
We love it when people get straight to the point. So many VPNs tiptoe around the fact that they log everything you do, but FastestVPN does not fall into that category. It does not record any of your information, and it comes straight out and says that in its privacy policy.
The only information it does keep is your username, password, email, and "marketing-related session data."
The most important thing about a VPN is whether or not you are safe from prying eyes, right? With FastestVPN, you get five different protocols including PPTP, L2TP, IKEV2, TCP, and UDP.
FastestVPN also uses AES 256-bit encryption, which is the industry standard. This is the stuff that keeps the bad guys out. You'll find that all of the best VPNs utilize this level of encryption.
If you love to download massive files than you'll be happy to know that FastestVPN does not have a bandwidth cap so you can torrent till your heart's content.
Well, it seems it calls itself FastestVPN for a reason. We were excited to research some speed tests, and what we found was shocking. Most users only experienced an 8% drop in download speeds and about a 20% drop in upload speeds.
While calling it the "fastest" might be a bit of an exaggeration, we must admit that it is more than fast enough.
What We Dislike About FastestVPN
So far, we like this VPN. We think it offers a lot of great features and robust security. Unfortunately, it's not all good news. But don't worry, we don't have anything too serious to throw at you.
We made a harsh discovery during our research. Netflix does not work while connected to FastestVPN, but that is not the worst part. One user testing this VPN said that it kept redirecting him back to his country's version of Netflix. This could mean that his real DNS was leaking.
That is a huge negative in our books and it makes you wonder if the service is worth using at all.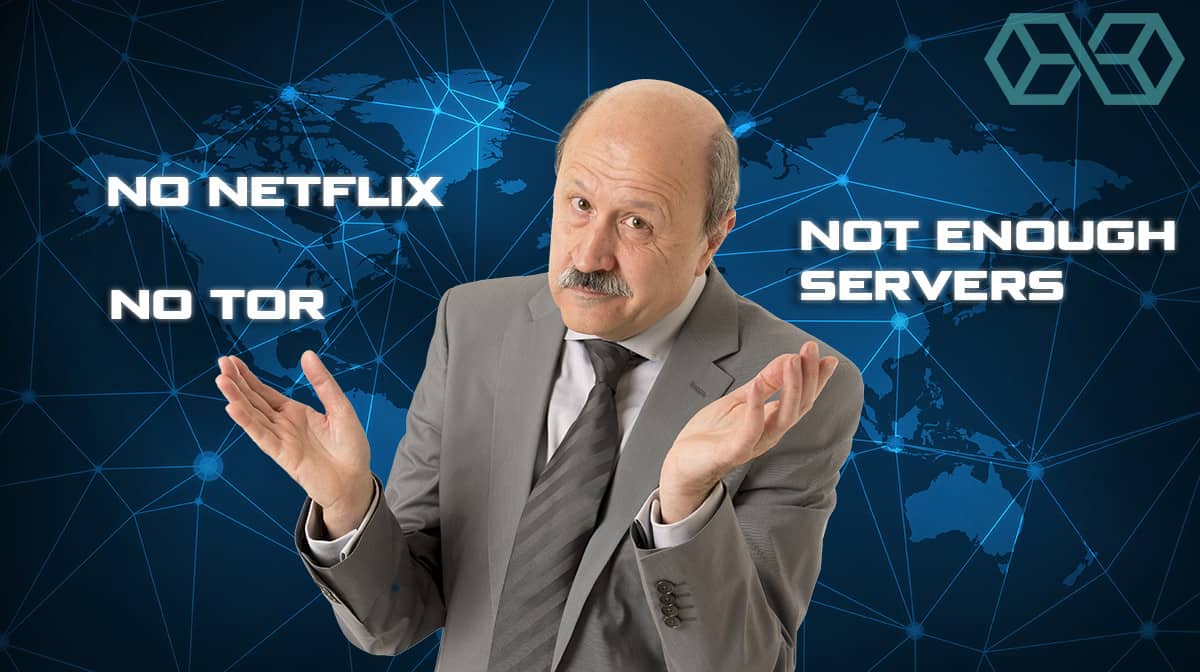 We always suggest using Tor for browsing anonymously. If you are going to do it, you might as well do it right. Unfortunately, Tor is not compatible with FastestVPN.
If you are looking to use TOR try Nordvpn, Expressvpn or Cyberghost instead.
There is a lot of confusion over how many servers FastestVPN has. During our research, the website tells us there are 29 servers in 29 countries. If you check back to the site in a few hours, there could be a different number of servers listed.
Either way, there aren't enough servers to handle a large influx of users. For a service that performs so well, you would think that it would put more focus into building an extensive network of servers.
Overall, FastestVPN has some big drawbacks which means we could not really recommend people to buy it and we won't be adding it to our best vpn list.
The jurisdiction of the Cayman Islands and its no logging policy help to make this VPN seem secure, but reports of DNS leaks bring that into question.
Although it may be fast, you cannot combine it with TOR and it doesn't work with Netflix. We recommend looking elsewhere for a more rounded VPN service.
Disclosure: Blokt strives to provide transparent, honest reviews, and opinions. The writer of this article is a user of the product(s) or service(s) mentioned in this article and was not influenced by the respective owners.
We rarely run ads, but sometimes earn a small commission when you purchase a product or service via a link on our site. Thank you kindly for your support.
Read more or donate here.