Are you a UK resident looking to buy Bitcoin (BTC)? Then you're in luck, as the UK has some of the best access to blockchain services in the world, with a wealth of options available to UK investors seeking their first investment in the original digital asset.
With London being the second largest financial center in the world, the UK has seen its fair share of blockchain adoption, and many experts are predicting that the United Kingdom could become a leader in the crypto economy in the near future. In fact, a 2018 survey revealed that one in five Brits believe that Bitcoin is here to stay, and moreover, many reckon that the leading digital currency will be as common as cash or card payments in the near future.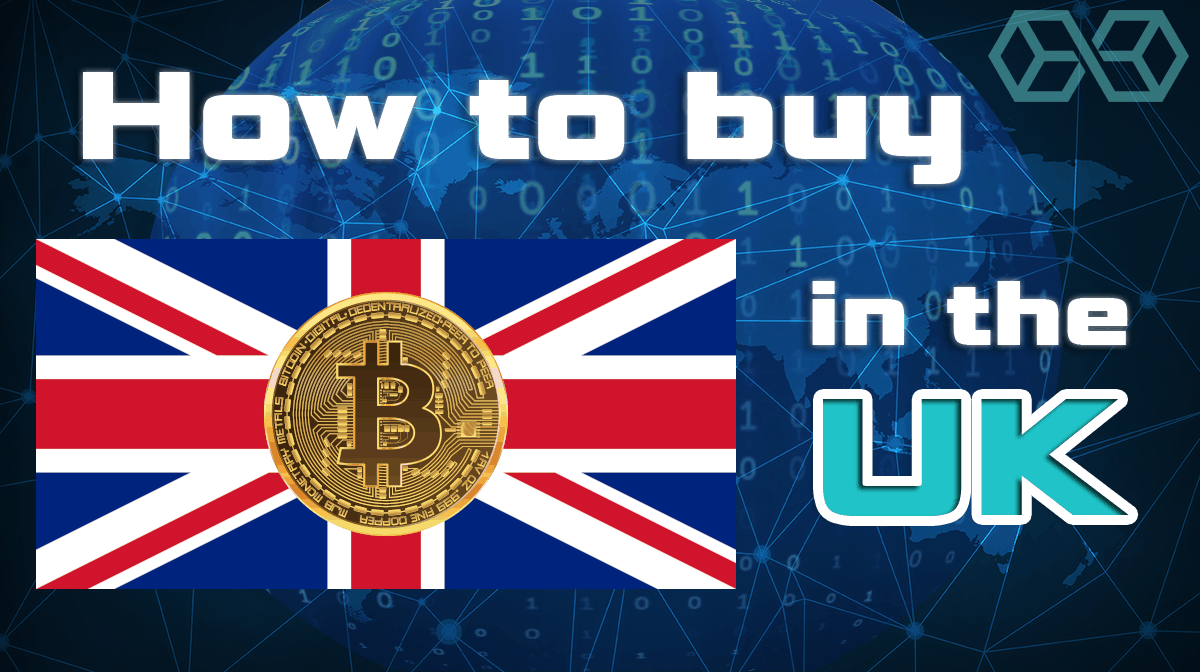 The same survey showed that a staggering 93% of people in the UK had heard of Bitcoin, and knew at least a little about how digital currencies functioned. So if you're a UK resident sitting on the sidelines and wondering how to get started in the world of cryptocurrencies, then this guide on how to buy Bitcoin in the UK is for you!
We're going to talk you through:

Where to buy Bitcoin in the UK
Fees associated with buying Bitcoin in the UK
GBP/BTC Slippage
Where Can You Buy Bitcoin in the UK?
Wondering where to buy crypto in the UK? There are multiple options available for UK residents to buy Bitcoin. The most common option is via third-party exchanges which let you purchase BTC with pound sterling or Euro via SEPA payments, such as Coinbase, Kraken, or new exchange Binance Jersey.
Other methods include peer-to-peer (P2P) sites such as Localbitcoins, where you can interact with people in your area to buy Bitcoin at an agreed price, or online via decentralized exchanges. Let's see what the pros and cons of these two methods are:
Centralized Exchanges (e.g. Coinbase, Kraken)
Decentralized & P2P Exchanges (e.g. Localbitcoins)
Pros

Ease of access.
Usability for beginners is good.
Troubleshooting support.
A range of payment methods supported.
Easily liquidate (sell) your position.
Some exchanges provide high-security custody for crypto assets.
Easy reporting for gains, losses and taxes.

Option to meet seller/buyer online and buy BTC with cash.
Offers a higher level of anonymity.
Lower risk of exchange hacks.
In keeping with the ideals of decentralized technology.

Cons

High fees.
Centralized, which is the opposite of what decentralized technology stands for.
Exchange hacks have happened in the past with users losing funds.
Not private, as users have to submit identity documents.

Generally lower liquidity than centralized exchanges.
No additional support from customer services.
No centralized, insured authority in the event of loss of funds.
Run on decentralized nodes, so downtime is rare.
It's generally harder for beginners to navigate decentralized exchanges.

Verdict
Good for beginners and investors.

For the average retail investor, third-party exchanges are a simple, secure, and quick way to buy Bitcoin.

However, be wary of fees and foreign exchange charges (discussed below).
Centralized exchanges provide less privacy than P2P trades.

An excellent choice for those requiring privacy and security.
For Bitcoin investors who are more experienced in exchanges, decentralized exchanges may offer some features which centralized exchanges can't. For instance, privacy and KYC/AML requirements are generally lower. However, as decentralized exchanges are still the less popular option, liquidity is generally lower.
Centralized, third-party exchanges are generally the route the majority of retail investors looking to buy Bitcoin in the UK will take. You don't have to buy a whole Bitcoin either. Bitcoin is divisible to 8 decimal points, which means you can buy as much or as little as you want.
Most Popular UK Crypto Exchanges
Here's a detailed look at the best crypto exchanges which let you trade Bitcoin in the UK:
One of the most popular exchanges, Coinbase allows UK investors to purchase Bitcoin through its web-based exchange, or through its app for iOS and Android.
UK customers can buy using both GBP and Euro on Coinbase. However, although Coinbase has recently started allowing GBP withdrawals to UK bank accounts, customers must first have made a deposit in GBP from the same UK based account.
In order for Coinbase to process any transactions in GBP you must verify a UK ID and a UK mobile number with your account – bear this in mind if you were planning to buy Bitcoins privately.
Note:
You can also read our in-depth
Coinbase Review
for a full rundown on what this exchange service offers.
Go to Coinbase
Kraken is a popular web-based exchange which serves UK customers. At the moment, there are no apps for Kraken which let you exchange BTC. Bitcoin is one of many cryptocurrencies available to buy on Kraken using GBP, one other available cryptocurrency is Ethereum (ETH). Note, Kraken use the ticker symbol 'XBT' for Bitcoin instead of 'BTC', this is common among certain exchanges.
Instead, as the UK is part of the SEPA zone (Single Euro Payments Area), UK customers can deposit and withdraw Euro payments to Kraken from their UK bank. It's essential to note that when depositing funds to Kraken, you do so from a UK bank which supports SEPA payments, and go through the correct channels with your bank to make this payment. If you try to send GBP to Kraken, your payment will be rejected.
Go to Kraken
The leading exchange in the world in terms of volume, Binance, announced earlier this year that it would be launching an exchange based in Jersey, one of the UK Channel islands, in order to offer UK and EU customers crypto trading options in both GBP and Euro.
Although a fairly new exchange with some features still being built, Binance Jersey will allow immediate fiat trading with GBP/BTC and EUR/BTC pairs, through a linked payment method such as a debit card.
Go to Binance Jersey
Fees Associated with Buying Bitcoin UK
If you're buying from an exchange which doesn't support GBP withdrawals and deposits, you should be wary of foreign exchange rates between EUR/GBP levied by banks. You might have logged onto your internet banking to see a charge for "Non-Sterling Transaction Fee". Whilst every bank has different fees, some providers will charge you up to 3% of the total transaction.
Buying one Bitcoin with a Euro pairing at say £3000, with a 3% fee, would set you back £90 of non-sterling transaction fees! This is a huge amount which naturally you want to avoid, especially when exchanges will also charge fees for using their platform.
To avoid this, you can either use one of the exchanges listed above which allow trading with GBP/BTC pairs or likewise, buy Bitcoin via a peer-to-peer exchange from someone local.
Slippage occurs when the price you expect to pay for a trade differs significantly from the market price which you pay when you execute the trade. Slippage generally occurs in periods of high volatility, when trading volumes are high. On more advanced exchanges, traders can set a buy or sell at a certain entry or exit price, upon reaching which the trade executes, rather than buying at market price.
However, on simple apps like Coinbase, this isn't available. Before you make a trade on GBP/BTC, make sure you check what the market price is. If slippage is negative and greater than 1%, it may be worth looking at the EUR/BTC pair instead. However, be mindful that positive slippage can also occur, where the price you pay at the final execution price is greater than the intended execution, and you end up with more BTC for your money.
You should now know how to buy Bitcoin in the UK, the difference between decentralized and centralized exchanges, and how to avoid paying high fees when buying your first Bitcoin!
For additional information, check out our longer post on how to buy Bitcoin with a credit card, where we walk you through the steps associated with purchasing BTC from Coinbase.
Disclosure: Blokt strives to provide transparent, honest reviews, and opinions. The writer of this article is a user of the product(s) or service(s) mentioned in this article and was not influenced by the respective owners.
We rarely run ads, but sometimes earn a small commission when you purchase a product or service via a link on our site. Thank you kindly for your support.
Read more or donate here.