The number of VPN services available today is staggering. They're vital to ensuring your privacy and security when transmitting sensitive information. Many corporations and businesses use VPNs for this reason.
When choosing one, you must consider many factors. The company's location is vital because of the country's data retention laws. Is the country where you're VPN bases its headquarters in one of the 14 Eye Alliance countries? Make sure that any VPN service you choose prioritizes your security and privacy.
Speed is another critical factor as well as price. Also, the company must be reliable and place performance at a premium.
We don't think anyone on the planet can say that they've never heard of PIA or NordVPN. These two giants are well-known in the VPN world, and both are quite popular. We're going to compare the offerings of these 2 VPNs for you so you can make an informed decision on choosing one.
NordVPN Features Vs PIA Features
We're going to start by comparing some of the features of PIA and NordVPN.
NordVPN has a better location than PIA because it based its headquarters in Panama. It also has a no-logs policy which is excellent for security. Panama respects privacy, but it is tremendously strict on copyright laws. One expert tip is to pick a VPN that isn't based in your country if you think you'll be affected by jurisdictional issues.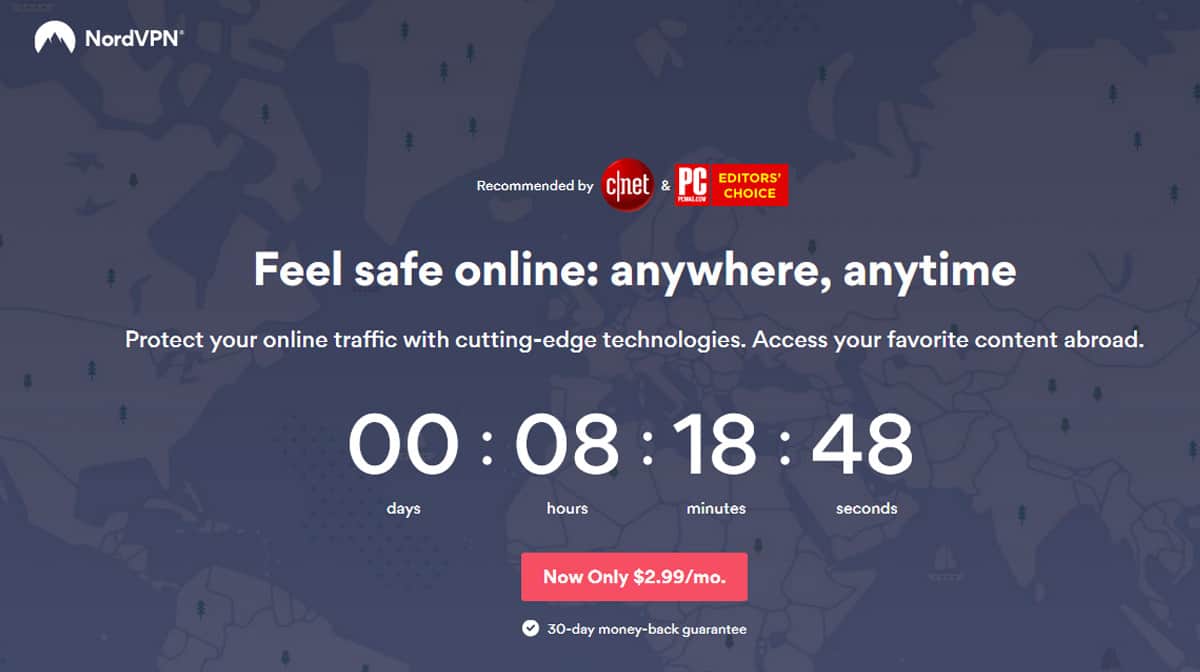 Simultaneous connections are another plus and NordVPN allows you to connect 6 devices simultaneously. There is a catch, however. They each have to use different connection protocols. As a result, these users have to make sure that each of them uses a different encryption protocol when they connect to NordVPN.
Many people utilize VPN services for P2P and BitTorrent file sharing. NordVPN allows this type of activity but restricts it to servers in only 37 countries.
Nordvpn ranks in our best VPN lists for torrenting, gaming, android and iphone.
NordVPN also has impressive server coverage. There were varying reports on the number of servers it has, but at the least, it's over 2,100 servers in 61 countries. It also supports multiple platforms to include macOS, Windows, Android, and iOS. It offers manual setup directions for Chrome, Raspberry Pi, Windows Phone, Linux, and many routers.
NordVPN has a great user-friendly support library and a trouble-ticket system by email. It also provides live chat support which is excellent for VPN services. Many security experts recommend NordVPN.
NordVPN offers more security and privacy features than PIA that we'll talk about under the security and privacy section.
Global Server Coverage
Customer Service and Support
Location
256-Bit Encryption
Supports Multiple Platforms
Simultaneous Users Must Use Different Encryption Protocols
Less Simultaneous Connections than PIA
Get NordVPN
Location is not a plus for PIA since it is located in the U.S. While there are no data retention laws, if PIA did retain any user information the government could request it at any time.
Luckily PIA has no data logs, and this was proven in 2016 and 2018 when the company received subpoenas for criminal cases. PIA told authorities that it could only provide IP addresses because that was all the information that it had. It is a proven zero logs VPN service.
Like NordVPN, PIA is an excellent option for torrenting, but there is one significant difference. PIA offers port forwarding to optimize its users' speeds. Port forwarding is simple to activate in the settings and then connect to a server that supports it. Not all of PIA's servers support port forwarding.
Speaking of servers, PIA has over 3,200 servers, but they are only in 25 countries. The company does have server farms in major countries such as the United Kingdom, France, the United States, and others. Access to blocked content may be more limited than NordVPN's availability.
One feature that PIA excels at is its connections. Private Internet Access increased its prices in March of 2019 because it increased the number of simultaneous connections to a jaw-dropping 10. The standard amount of connections is 5.
PIA's customer service isn't as good. PIA only has a trouble ticket submission system and a self-access support library. The library is useful, though.
PIA supports Windows, macOS, iOS, Linux, and Android. They also work with Tomato-flashed and DD-WRT routers.
10 Simultaneous Connections
Number of Servers
Supports Multiple Platforms
Does Not Keep Data Logs
Torrenting
Location
Only Trouble Ticket Submissions for Customer Support
Get PIA
Here's a factor that many of you may place highest on the list. The VPN Service must be cost-efficient and provide value.
NordVPN offers a month-by-month plan for $11.95. Its 1-year subscription comes to $6.99 a month, the 2-year plan is only $3.99 a month, and it gives you an excellent price if you choose the 3-year subscription. The monthly cost for the 3-year plan equals $2.99 per month.
Even though PIA increased its prices, it is still inexpensive. The monthly plan it offers is $9.95 each month. You pay $8.99 a month for the yearly subscription and $3.49 every month if you choose the 2-year plan.
Now we'll discuss the difference in security features between the two VPN services. NordVPN has Double-VPN and Tor with VPN servers since different users have different needs. With Double-VPN, NordVPN encrypts your traffic twice through two entirely different servers.
Tor-over-VPN servers are just what they suggest, servers that encrypt your traffic by VPN and then over the Tor network.
NordVPN also has a kill switch for traffic (via a firewall) and applications as well as leak protection settings. It also has a feature called CyberSec that blocks malware, tracking, and ads. NordVPN has the typical servers for HTTPS encryption as well as obfuscated servers that hide VPN traffic.
HTTPS encryption is convenient if you need a VPN in China where they block VPNs. NordVPN offers advanced 256-bit-encryption through L2TP/IPSec, PPTP, and OpenVPN.
PIA has some great security features, but they are pretty basic. It provides leak protection settings that are standard as well as different settings for encryption. PIA does include an ad blocker known as PIA MACE. This company's encryption is advanced. It has 256-bit-encryption through L2TP/IPSec, PPTP, OpenVPN like NordVPN.
There's nothing fancy, just the basics. PIA covers the essential aspects, and that may be enough for many people. PIA does allow you to enable Wi-Fi security and use a secret IP for private browsing.
Speed, Reliability, and Performance
When it comes to speed, some testers found that NordVPN has variability across its network. Some connections were stable and fast while others varied such as the ones in the U.S. Contrastingly, PIA had excellent reliable speeds.
Testers established connections quickly, and they were consistent. By no means was PIA the fastest. Still, it was reliable which is a great asset.
NordVPN had speeds between 90 and 105 Mbps in Europe and between 4 and 70 Mbps in the U.S. PIA wasn't the fastest, but its speeds in Europe were between 65 and 85 Mbps. PIA's U.S. and Canada speeds ranged from 55 to 67 Mbps.
Both provide excellent value for their price and performance. Overall, NordVPN has more features and offers more services and server locations. However, if you just need the basics, PIA is a fabulous choice. NordVPN is just a little more robust.
These two each have an edge on something in this category. NordVPN has the best refund window while PIA offers more options for payments.
PIA allows you to pay with PayPal, credit cards, AmazonPay, Bitcoin, Ethereum and other cryptos. It gives you a refund window of 7 days.
NordVPN lets you pay with most of the same payments except some of the cryptocurrencies and PayPal. It provides an excellent 30-day refund window on all of its plans.
While both VPN services come highly recommended and have great features, we chose NordVPN as the winner. NordVPN has extra options and supplies many advanced security and privacy features. Its security is hardier, and the network speeds are faster overall.
PIA edged ahead in payment options and had more reliable speeds, but those factors certainly don't override all of the great things about NordVPN. NordVPN has also based its headquarters in Panama where the government eavesdrops less. It also has servers in many more countries and locations than PIA.
PIA allows for more simultaneous connections, but NordVPN is solid in this area as well, letting users connect six devices simultaneously. NordVPN also has excellent pricing and available subscription plans.
With better customer service options and BitTorrent support, NordVPN was the clear winner. With this comparison you can see why Nordvpn is ranked number one on our best VPN list.
Recommended
Disclosure: Blokt strives to provide transparent, honest reviews, and opinions. The writer of this article is a user of the product(s) or service(s) mentioned in this article and was not influenced by the respective owners.
We rarely run ads, but sometimes earn a small commission when you purchase a product or service via a link on our site. Thank you kindly for your support.
Read more or donate here.