Cryptocurrency mining can get rather costly, given its massive energy consumption. But the Southeastern European country of Kosovo could provide a solution to that dilemma. While Kosovo might be recognized as one of Europe's poorer countries, it does have one of the cheapest electricity rates in the region. Cryptocurrency miners residing in Kosovo would only need to spend a little over $3,000 in electrical bills to generate a single Bitcoin, which is currently worth double that amount, according to Reuters.
Pay Less for More Profit
In fact, Kosovo's electricity rates drop to as low as US 8 cents per kilowatt-hour, making it the third cheapest source of electricity in all of Europe. Electricity in other European countries such as in Britain costs more than twice as much, averaging at about US 19 cents per kilowatt-hour. The country is also considered as having the highest density of Internet users within the region, which only helped push the rising popularity of Bitcoin mining in the area even further.
Bitcoins have become so popular among Kosovo citizens that they can even be used to pay for property such as an apartment. Cryptocurrency expert Ermal Sadiku says that locals see cryptocurrency as "an alluring investment." Sadiku also explains that cryptocurrency investment is a more hasty means of getting rid of "a lot of dirty money," which he claims is proliferating around.
However, the value of Bitcoin has been waning down a bit, and local miners are experiencing the effect of its depreciation. One local cryptocurrency miner reveals that his profits from Bitcoin mining have now been cut in half. It also doesn't help that the price of GPUs, which are vital components in cryptocurrency mining, has drastically increased since then, making mining operations more costly than before.
Going Green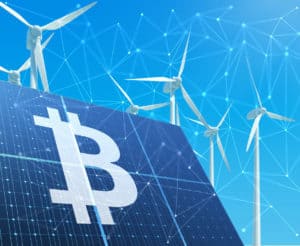 While some cryptocurrency miners are turning to cheaper electricity sources as a means to lessen the expenses of their operations, others are turning to clean renewable energy as an alternative solution. According to Fortune, renewable energy company Solar Alliance is planning to use its recently acquired 165,000-square-foot warehouse in Illinois as renting space for potential cryptocurrency miners. The facility will utilize its 3-megawatt solar panel array to provide a cleaner and renewable energy alternative to cryptocurrency mining operations.
Solar-powered Bitcoin operations could suffer from a significantly reduced rate of productivity, given the limited amount of energy that the sun would be able to provide within the day. However, using solar energy in Bitcoin mining is a lot more environmentally friendly and practical, given the power-intensive nature of these operations. It is also revealed that the annual energy consumption used for Bitcoin mining is almost as much as the total energy consumption of the whole country of Ireland. With that said, one can only imagine its negative effect on the environment in the long run.