Looking to roll some dice and win some Bitcoin or other cryptocurrencies? You've come to the right place. Read on to find out which sites our expert chose as the best.
IN A RUSH?
Go straight to our expert's top pick. For the best all-around Bitcoin dice experience, DuckDice is our top pick.
An Introduction to Bitcoin Dice
Bitcoin Dice is one of the most popular crypto gambling games, and even though these games are relatively simple, they are one of the most customizable forms of betting you can play with cryptocurrency.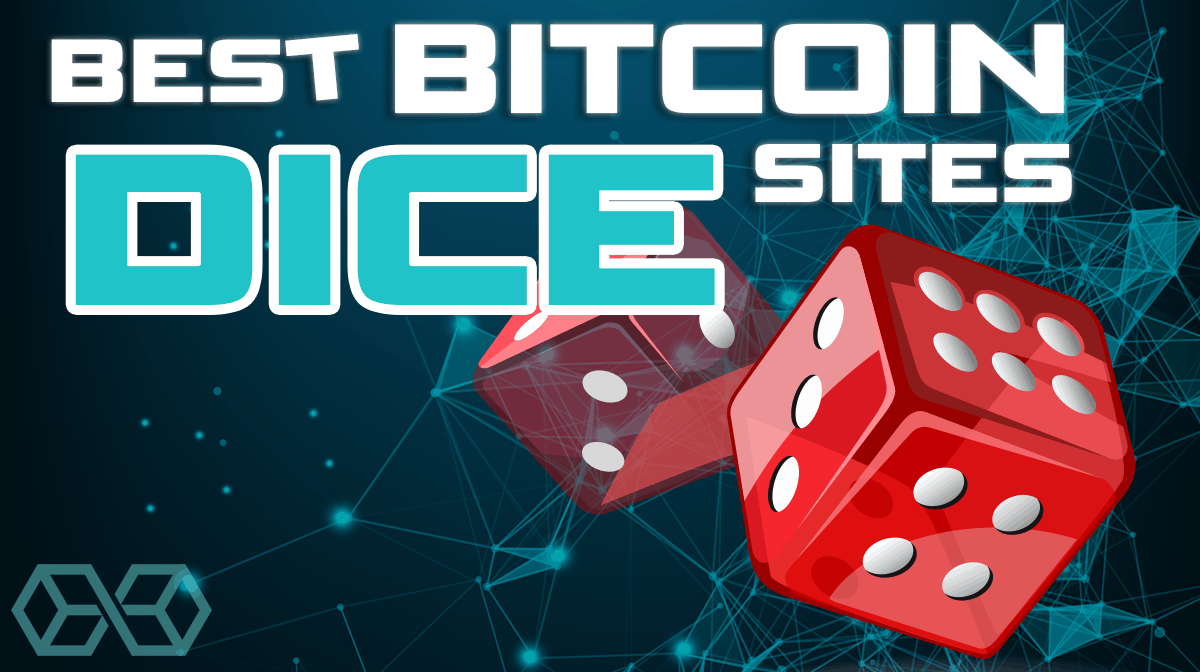 This is because Bitcoin dice sites typically allow players to set their own odds, alter risk and reward, and determine the house edge level. Naturally, the lower house edge will mean less reward, but many players like the opportunity to tailor their gambling experience and win more regularly and consistently with dice games.
Because of its simplicity, many crypto gambling players have come to regard Bitcoin dice and other dice games as one of the purest forms of wagering, changing little in their long history.
Here, we're going to explore some of the best Bitcoin dice websites globally and highlight some of the best Bitcoin faucets available. But first, let's look at what a Bitcoin dice faucet is and discover some of the most popular strategies for winning at Bitcoin dice.
What is a Bitcoin Dice Faucet?
In this article, we will be looking at 'Bitcoin Dice Faucets,' but what are they, and why do Bitcoin dice players love them so much?
Certain Bitcoin Dice websites will give players a tiny amount of BTC, like a faucet would leak a little water, to try out Bitcoin dice games without risking their funds. Some Bitcoin dice faucets offer substantially more Bitcoin than others, or they dispense at more regular intervals – so some players like to maximize their free BTC through Bitcoin dice faucets!
This free BTC or other cryptocurrencies can either be saved up or used to bet on Bitcoin dice games to try and gamble up your crypto holdings.
In the article below, we're going to look at some of the best Bitcoin dice faucets so that you can make the most of your dice experience.
Which is the Best Bitcoin Dice Strategy?
We should start by saying that Bitcoin dice is a game of chance – ultimately, it's a gambling game, and the house always has a slight edge. However, players can follow strict strategies to improve their odds of winning and increase their takings over time.
Here are a few of the most popular strategies:
The Paroli Strategy – A method that helps players maximize winning streaks and minimize losses, the Paroli strategy sees players determine a base stake amount, then double their bet after each win until they achieve three consecutive wins.

The Martingale Strategy – A tried and tested strategy from the 1700s; Martingale strategy players gradually increase their bet amount when they are on a losing streak. The idea behind this strategy is that the increased bets will recover the losses incurred during the losing streak when the player wins.

The D'Alembert Strategy – This easy-to-remember strategy increases your bet amount by 1x after each consecutive roll.
The Inverse Martingale Strategy – As you might have guessed, this is the opposite of the regular Martingale strategy. Players increase their wagering size during a winning streak rather than a losing streak, maximizing the takings from a successful win.
Our Picks – The Best Bitcoin Dice Sites
Now you're armed with some knowledge of the best Bitcoin dice strategies, let's dive in and review some of the best places to play Bitcoin dice! Check out the table below for a quick overview of the top sites or scroll down to see a detailed review of each.
| | Site | Noteworthy Features | Play |
| --- | --- | --- | --- |
| 1 | | Great looking site, user-friendly, many features.. | |
| 2 | | Great design, easy to use, feature-rich, strong history, large range of crypto supported. | |
| 3 | | Great user interface, top crypto and Bitcoin faucet, good competitions. | |
| 4 | | Easy to use, good faucet, provably fair. | |
| 5 | | Easy to use, provably fair. | |
A growing Bitcoin dice website, DuckDice.io is a well-designed site licensed in Curaçao. As a Crypto Gambling Foundation member, DuckDice provides provably fair dice games in a range of cryptocurrencies.
The site has implemented plenty of exciting features that have contributed to its popularity, and these have assisted in setting DuckDice apart from other Bitcoin dice operators in recent years. There are a couple of different games on DuckDice, including their main Dice feature and also some lottery games.
Signing up to DuckDice.io is one of the most effortless experiences in crypto gambling – you simply click 'sign-up,' and DuckDice generates a username for you. There's no need to enter an email address, and you can get started straight away.
Users from the United States, the Netherlands, Russia, France, and Ukraine are not currently allowed to play on DuckDice.io.
DuckDice.io Bitcoin Dice
With a focus on design, DuckDice's crypto dice games are well laid out and easy to play, with a fun 'egg' theme to show how much players have wagered.
There are auto modes if you're the kind of player who likes to set up their games and watch them go, or a 'Flashbet' mode, which lets power-players place hundreds of bets per second.
Flashbet lets players set their wagering parameters and then executes hundreds of bets at the fastest speed possible. Once a Flashbet session is in play, there's no way to stop it unless one of your pre-set criteria is reached or you run out of balance.
DuckDice's Flashbet is an excellent way for regular players who like to wager a set amount per day to play, so if you've got limited time on your hands, check it out!
DuckDice.io Bitcoin Faucet
DuckDice has both a generous Bitcoin faucet feature and 'rain' events where cryptocurrency is distributed to certain players.
Their faucet feature allows players to collect free satoshis, which are immediately available to gamble on their dice games. It's easy to collect BTC from DuckDice's faucet – you either beat another player in a tic tac toe minigame or play three games in succession to win! However, the faucet feature is only available when you have no funds in your account.
Players can choose to make it 'rain' on other members of their chatroom by clicking the cloud icon at the top of the site. This will distribute small amounts of crypto to everyone in that room, so it pays to know some high-rollers on DuckDice!
DuckDice.io Supported Cryptos
DuckDice lets players gamble in the following cryptocurrencies:
Bitcoin
Litecoin
Dogecoin
Dash
Bitcoin Cash
Ethereum Classic
Ethereum
Bitcoin Gold
Zcash
Monero
Ripple
Tether
And many more
In fact, in April 2022, DuckDice announced 7 more coins that will be supported on its platform including SOL, MATIC, LUNA, and others. They have since removed LUNA after its recent colapse.
It's incredibly easy to credit your account on DuckDice, only requiring a deposit address for your chosen asset.
DuckDice.io Additional Features
In addition to their feature-rich dice games, DuckDice also has a currency exchange, a 'bank' feature, awards, and regular contests.
Users can transfer any supported crypto to any other cryptocurrency using DuckDice's currency exchange feature, for instance, BTC to LTC, which takes just seconds and is great for quickly swapping the currency you're betting with.
There are regular contests, such as daily wagering contests for dice players with prizes up to 0.01 BTC.
DuckDice's bank feature is an exciting way to make sure you're setting aside a portion of your winnings rather than leaving them all on the table. Players can deposit their crypto into DuckDice's bank, which removes it from the available funds when placing a bet.
Our Verdict
A great-looking Bitcoin dice site, DuckDice is leading the way in terms of innovation and user-friendliness.
They are jam-packed with features that other Bitcoin dice sites don't have, like banking features, huge bonuses, and crypto exchanges, which transform DuckDice into more than just a standard Bitcoin dice site.
Overall, we think DuckDice.io is one of the best choices for Bitcoin dice players regardless of skill level or wager amount.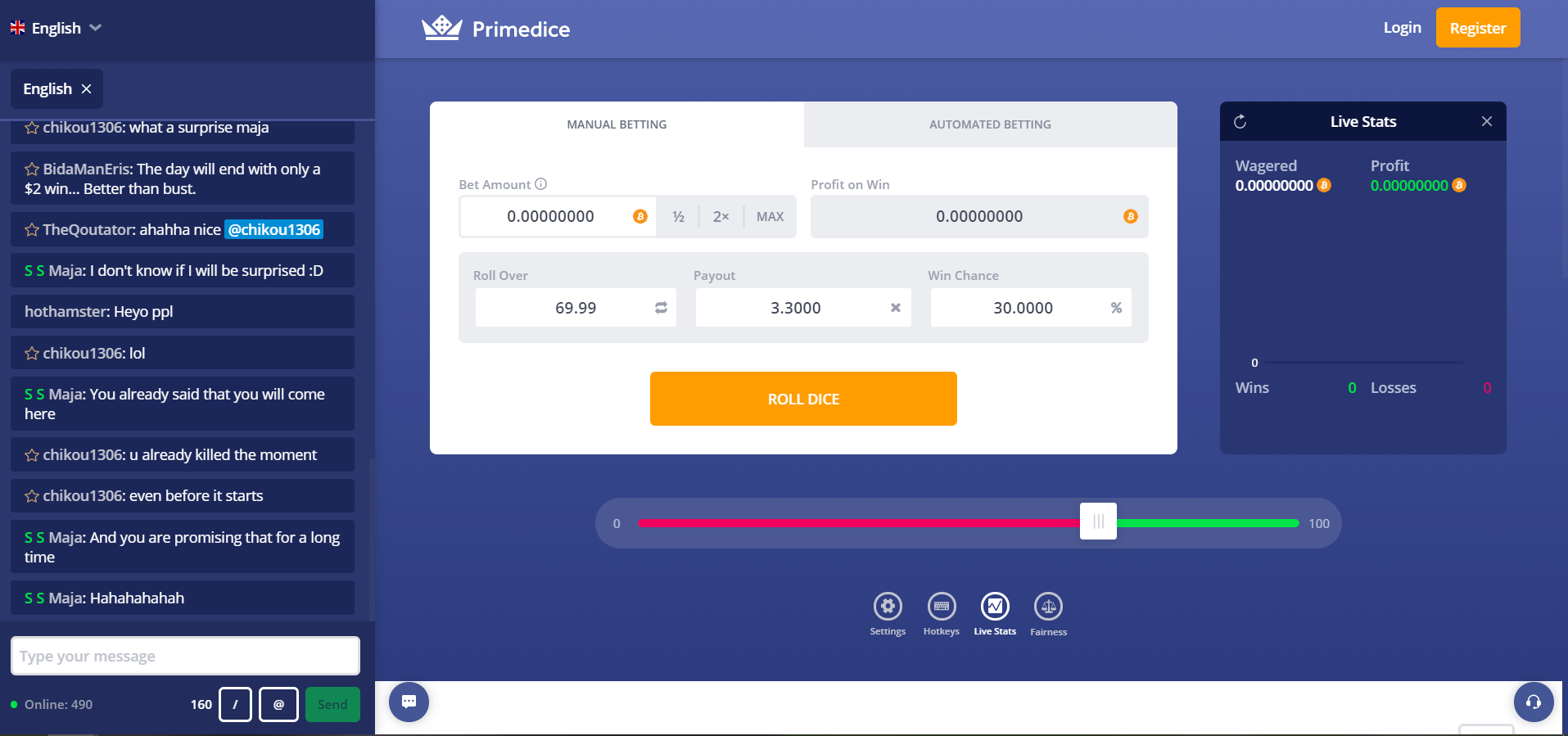 Established in 2013, Primedice is one of the most popular Bitcoin dice venues where users can stake their Bitcoin bets. Primedice is owned and operated by Slice Media, the same company as popular crypto casino Stake.com – one of our top 10 best Bitcoin casinos for 2022.
With provably fair dice games, one of the lowest house edges in the industry of just 1%, and instant bitcoin deposits and withdrawals, Primedice is an incredibly easy-to-use Bitcoin dice website.
Primedice is open to players in most jurisdictions, but they restrict players from the USA, Australia, and other countries where online gambling is illegal.
Primedice Bitcoin Dice
Visually, Primedice has one of the best Bitcoin dice interfaces of any provider, with no fluff or unnecessary options – it's a simple and easy to use game set-up which does precisely as bitcoin dice players would expect.
There's a simple slider bar to change the wagering requirements, which makes it incredibly easy to change the win chance from 98% all the way down to just 2%. There are also options to quickly wager either half or the entirety of your Bitcoin holdings, and there are more options for automated betting – where players can simply set up their rolls and watch it go.
If you choose to play with automated betting, you can set your wagers to stop once a certain amount of profit or loss is reached, so if you've got a set amount of Bitcoin to spend, this is an excellent option for placing your bets while you do something else.
Primedice's Bitcoin dice is provably fair and verifiable, providing both client and server seeds for each game.
Primedice Bitcoin Faucet
Unfortunately, Primedice doesn't offer a Bitcoin faucet anymore.
However, they do let players try-out dice games by placing zero bets, which allows users to experiment with different game methods.
Supported Cryptos
Primedice lets players gamble in the following cryptocurrencies:
Bitcoin (BTC)
Litecoin (LTC)
Ethereum (ETH)
Ripple (XRP)
Bitcoin Cash (BCH)
DogeCoin (DOGE)
Tron (TRX)
Primedice Additional Features
Primedice has some exciting extra features which have contributed to its popularity, including a VIP status for regular players that awards unlimited rake backs, gifts and rewards, and exclusive bonuses.
VIP status is obtained through Primedice's loyalty progression, the final level of which is 'Diamond' status for the highest wagering players. For VIP players, Primedice claims there are 'limitless' opportunities for rake backs, which refunds players some of the money they've wagered so they can continue playing.
There are also challenges tailored to each player, which are unique based on the kinds of wagers you place and the frequency you play on Primedice.
We also liked Primedice's chat feature, which is a live community chat where players can exchange tips, pass the time while their automated wagers run, and share their big wins!
Our Verdict
It's straightforward to see why Primedice has become one of the most popular Bitcoin dice sites, as it's one of the best designed, easiest to use, and most feature-rich sites in the world. It's also achieved veteran status among the crypto community, becoming highly respected during its seven-year history.
We liked the broad range of cryptocurrencies that Primedice supports, which is excellent for those who wish to gamble using altcoins. However, compared to some of the other sites we'll be reviewing below, Primedice doesn't have a Bitcoin faucet feature, which is disappointing for those who like to receive free BTC to bet with periodically.
Overall, Primedice is provably fair and highly trusted Bitcoin dice operator, which has a proven track record of delivering a fantastic crypto gambling experience.
Trustdice are primarily a Bitcoin dice provider, but they also have a range of traditional crypto casino games, like Blackjack, Baccarat, and Roulette.
Established in 2018, TrustDice is licensed in Curaçao, and run by Satoshi Gaming Group. The site has almost 200,000 players worldwide, with 62 million total bets placed and nearly $185,000 paid out in prizes.
TrustDice supports players from most jurisdictions but excludes those from the USA, France, and the Netherlands.
TrustDice.Win Bitcoin Dice
TrustDice has an enjoyable and easy to use interface, which lets players place a wager in seconds. Like other sites on our list, there's a slider bar that players can use to change their bets quickly.
Players can see all the bets other users are placing on the game, as well as what they've won and what they rolled – which is great for keeping track of how often the Bitcoin dice is paying out.
There are also quick-press buttons for placing a minimum bet, max bet, or half of your total holdings. It's not easy to find information on how provably fair the games are within the gaming interface. However, digging a little deeper does reveal that games on TrustDice are provably fair.
TrustDice.Win Bitcoin Faucet
TrustDice.Win uses the Coinbox faucet, which offers a vast range of free crypto to players, including Bitcoin, Ethereum, EOS, Tether, and other tokens. New players can claim from the Coinbox faucet every six hours, and for regular players, the faucet pays out more often.
All crypto claimed from TrustDice's faucet can be immediately wagered on dice games with a minimum bet of just 10 Satoshi. As players can get 50 sats every six hours from TrustDice's faucet, you can make 20 free wagers every day just from faucet crypto!
TrustDice.Win Supported Cryptos
TrustDice.Win lets players gamble in the following cryptocurrencies:
Bitcoin
Ethereum
EOS
Tether
TrustDice Additional Features
TrustDice.Win lets players access a range of other crypto casino games, but they also keep their dice players interested through contests and prizes.
For example, players can take part in TrustDice. Win's weekly wagering contest, to be in with a chance of winning up to $3,000.
Our Verdict
TrustDice has one of the best user interfaces of any Bitcoin dice site, and it's also got the best crypto and Bitcoin faucet hands down.
There's a decent range of competitions, including level-up rewards and plenty of opportunities for rakebacks. Overall, TrustDice.Win is a great option for Bitcoin dice players who also want to explore betting with altcoins.
OneHash is a Bitcoin dice, casino, slots, and sportsbook casino based in Curaçao. Its Bitcoin dice game is one of the most popular in the industry, and it's also one of the easiest to use.
OneHash is open to all players that are legally allowed to gamble online in their jurisdiction.
OneHash Bitcoin Dice
OneHash's Bitcoin dice is an easy to play game, with a well laid out interface and plenty of customization for your wagers. Like other Bitcoin dice games we've reviewed, there's a simple slider to change the odds, and auto roll features to set up games.
Each game contains 'seed settings,' where players can view the SHA256 hash of the game's server seed to verify that the game is provably fair. Users can also change the seed to one of their choosing if they want more control over their game.
Overall, OneHash's Bitcoin dice has most of the same features as other sites, but its interface is a little cleaner and easier to navigate.
OneHash Bitcoin Faucet
Players will be pleased to find out that OneHash does have a Bitcoin faucet, which pays out 0.000001 BTC. The faucet button can be found in the top right corner of the Bitcoin dice gaming interface.
There's no information as to how many times users can claim free Bitcoin from OneHash's faucet, but it's definitely available to new players.
OneHash Supported Cryptos
At the moment, OneHash only accepts Bitcoin deposits and payments.
There's no information about any new cryptocurrencies coming to One hash.
OneHash Additional Features
OneHash has regular dice wagering contests, where the most frequent players are rewarded with cash prizes. Contests run every day from midnight, and the top 10 users all receive a reward. The top player takes home 0.015 BTC!
There's 24/7 live chat support for customers, and users can suggest upcoming events to wager on, which the OneHash team will review and potentially let players bet on them.
Our Verdict
The Bitcoin dice game at OneHash offers everything crypto gamblers would need from a dice game, and it's also simple and easy to use.
We liked how easy it was to see verification for the fairness of each roll on One hash, and likewise how quickly players can receive free Bitcoin through their faucet feature.
It's not quite as feature-rich as TrustDice.Win or DuckDice.io, but it's still going to be a great choice for most Bitcoin dice fans.
Established in 2014, BitDice is a long-running Bitcoin Dice website that's remained popular among crypto enthusiasts for many years.
Licensed in Curaçao, BitDice offers other games for crypto gambling, too, including blackjack and slots. BitDice is best known for its exciting leveling system, generous rake backs, and it's loyalty token.
BitDice Bitcoin Dice
A nice feature of BitDice is their' session stats', where players can quickly see their wins and losses, the amount in BTC they've won, and how much total BTC they've wagered in that session. You can also see who is placing the largest bets and who is getting the biggest winnings on the leader board.
BitDice also has a handy feature where players can see if a game is provably fair at the touch of a button. This is at the bottom of the dice interface, and clicking the button displays the secret hash and client seed of each game.
BitDice Bitcoin Faucet
BitDice does have a Bitcoin faucet, but it's limited to BTC and only gives out small amounts. Its primary use is to let players try out games without first depositing crypto to the casino.
Although it's not as generous as some of the other casinos we've reviewed here, it's still a nice feature, and if you're dedicated enough, your faucet rewards can build up over time.
BitDice Supported Cryptos
Bitdice supports the following cryptocurrencies:
Bitcoin
DogeCoin
Litecoin
Ethereum
BitDice Additional Features
There are substantial rake backs available for BitDice players, which you can earn by progressing through the levels – made by playing regularly on the site. Other bonuses for regular players include daily chests that contain huge bonuses and random bonus wins of either free spins or extra funds.
Every bet you make on BitDice will award a small amount of the casino's loyalty token, 'BitDice Tokens.' These tokens can be converted to Bitcoin at the rate of 1,000 BitDice Tokens to 1 BTC. However, players can only spend this inside the BitDice casino, either by wagering or on raffles and competitions.
Our Verdict
Overall, BitDice is a decent site to play Bitcoin dice games, and it's simple and easy to use, as well as being a very trustworthy site.
However, compared to some of the other sites we've reviewed, BitDice is a little dated looks-wise, and it's Bitcoin faucet is also somewhat limited – essentially only functioning as a way to try out games without committing your funds.
Nevertheless, BitDice is a great Bitcoin dice site overall, and we think their easy-to-view secret hash and client seed for each game is a very important feature for those concerned with fairness.
Best Bitcoin Dice Faucets
With up to 20 free wagers per day, Trustdice's faucet is definitely one of the best ways to claim free Bitcoin, and a range of other cryptocurrencies.
We were impressed with how many different types of crypto could be claimed through TrustDice. Win's faucet, which is considerably more than any other Bitcoin dice site we've reviewed here.
Which Is The Best Bitcoin Dice Game?
Overall, we liked DuckDice's gaming interface and range of features the most. Its Flashget system is perfect for those who play dice games regularly, as you can get all your daily bets done in an instant.
DuckDice's banking feature is also a great way to limit how much you wager, so if you've had a decent winning streak you can easily take these winnings off the table without transferring them to an external wallet.
TrustDice comes in as a great second choice. It has a faucet for many cryptocurrencies, which makes it a perfect option for people who like to collect free Bitcoin. For beginners who don't want to commit a lot upfront, we recommend TrustDice.
Nevertheless, for an all-round excellent Bitcoin dice experience, DuckDice is one of the best and most feature-rich Bitcoin dice sites!
Disclosure: Blokt strives to provide transparent, honest reviews, and opinions. The writer of this article is a user of the product(s) or service(s) mentioned in this article and was not influenced by the respective owners.
We rarely run ads, but sometimes earn a small commission when you purchase a product or service via a link on our site. Thank you kindly for your support.
Read more or donate here.