When trying to decide on the best cryptocurrency exchanges, it is not simply a matter of ranking by volume or performing a broad comparison according to fees, accessibility, trading tools, or other common features.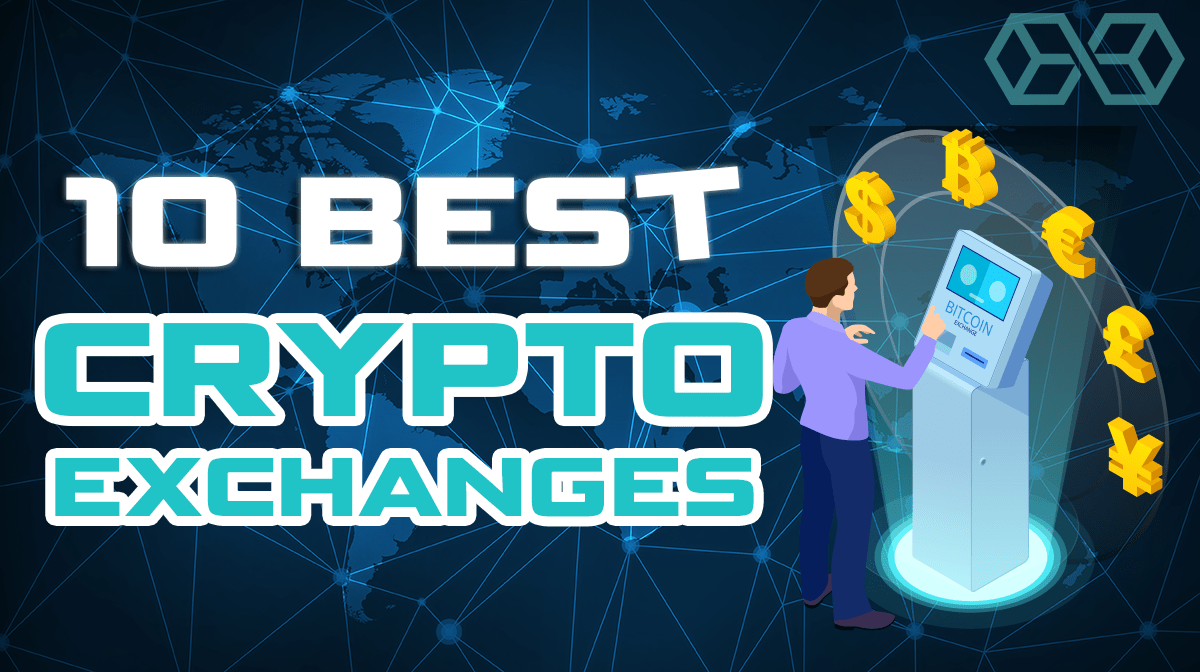 Most exchanges aim to support a particular type of client based on their location, experience, payment method, need for anonymity and so on, while very few can be considered broad catch-all exchanges designed for a non-existent "average user."
For example, if you are in Europe or the United states and you are a first time cryptocurrency user you may want to start with Coinbase or Kraken. If you are based in Asia then you may choose Bitfinex. If you already have bitcoin and you want to buy altcoins you may want to choose Binance. And if you want to trade on margin you may want to choose Bitmex, Bitfinex, FTX or Binance.
That is why we decided to offer a list of the best Bitcoin and cryptocurrency exchanges to cover the needs of all our readers.
We will include the top major exchanges that offer the broadest range of services, as well as some smaller exchanges that focus on more specific types of clients.
This way, every reader will be able to find the best cryptocurrency or Bitcoin exchange for their unique needs.
With the Fed pumping trillions of dollars into the US money system in recent weeks, now is as good a time as ever to purchase Bitcoin or other cryptocurrencies. After all, Bitcoin doesn't partake in quantitative easing, right? Let's get started with our list of the top exchanges.
The 10 Best Cryptocurrency Exchanges
This table features the top 10 best Bitcoin and crypto exchanges:
| Rank | Exchange | Deposit Methods | Fiat Accepted | Cryptocurrency Supported | HQ | Trade Now |
| --- | --- | --- | --- | --- | --- | --- |
| 1 | Coinbase [Full Review] | Credit card, debit card, bank transfer, Paypal, crypto | USD, EUR, GBP, AUD, CAD & many more | BTC, ETH, XRP, LTC, BCH, ETC, ZEC, BAT, USDC, ZRX | San Francisco, USA | |
| 2 | Binance [Full Review] / Binance US | Crypto, Credit card, Debit card | GBP, EUR, AUD, CAD, and more (15 fiat currencies) | BTC, BNB, ETH, EOS, XLM, ADA, LTC, XRP & 140+ more altcoins | Valletta, Malta | |
| 3 | CEX.io | Credit card, debit card, bank transfer, crypto | USD, EUR, GBP, RUB | BTC, ETH, XLM, XRP, LTC, BCH, DASH, ZEC, BTG, GUSD | London, UK | |
| 4 | Bitfinex | Bank transfer, crypto | USD, EUR, GBP, JPY | ETH, BTC, LTC, EOS, XRP, NEO, DASH, XMR & more (40 total) | Hong Kong | |
| 5 | Bittrex | Bank transfer, crypto | USD | BTC, ETH, LTC, XLM, XRP, PIVX, POLY, REP & more (238 total) | Washington, USA | |
| 6 | Coinmama [Full Review] | Credit card, debit card, bank transfer, cash | USD, EUR | BTC, ETH, LTC, XRP, ADA, QTUM, BCH, ETC | Bratislava, Slovakia | |
| 7 | Kraken | Bank transfer | USD, EUR, GBP, CAD, JPY | BTC, ETH, XRP, XLM, USDT, LTC, EOS, ADA & more (20 total) | San Francisco, USA | |
| 8 | Changelly | Credit card, debit card | USD, EUR | BTC, ETH, XMR, XRP, LTC & many more | Valletta, Malta | |
| 9 | Prime XBT [Full Review] | Crypto | None | BTC, ETH, LTC, EOS, XRP | Seychelles | |
| 10 | BitMEX [Full Review] | Crypto | None | BTC, ETH, LTC, BCH, EOS, XRP, ADA, TRX | Hong Kong | |
Below, we include all the relevant details about each individual exchange, so you can decide which exchange is right for you. Our choices for the top crypto trading platforms are as follows:
Coinbase was created to be the most trusted name in cryptocurrency exchanges, and in this respect, it is more or less unrivaled in the marketplace.
Coinbase is regulated as a US financial institution, including FDIC insurance for US deposits of $250,000 or less, and is compliant with key EU financial regulations. Coinbase is also backed by major mainstream investors, such as banks and investment funds.
This level of trust ensures that Coinbase is the exchange of choice for most beginner cryptocurrency investors, and features a simple design to accommodate this client base.
Coinbase recently had a direct listing on Nasdaq and finished its first-day trading with a price of $328.28, giving it an $85+ billion market valuation. You can view the current price of Coinbase's COIN stock here.
Unfortunately, this focus on trust means that Coinbase trades in only a limited number of cryptocurrencies, though it does trade in all the top names. Clients are also limited to a relatively small number of countries of origin in North America, Europe, and Oceania.
Coinbase has a fantastic track record when it comes to security, with only 2% of its customer's funds held online at any one point. Along with its insure-policy, this makes Coinbase one of the safest exchanges to use for users looking to purchase cryptocurrency.
Recently, Coinbase have taken a proactive approach to adding new digital assets, and also support more fiat trading pairs – especially for European and British customers.
For example, Coinbase has just announced trading support for Algorand, Chainlink, Tezos, and added trading pairs in GBP and EUR.
Coinbase have also started taking advantage of the growing decentralized finance (DeFi) hype, which is one of the biggest trend in digital assets to date. Coinbase recently added Compound (COMP) trading, offering its customers access to some of the most exciting projects in crypto.
"At Coinbase, our first priority is to ensure that we operate the most secure and compliant digital currency exchange in the world."
Brian Armstrong
,
Co-Founder & CEO of Coinbase
Binance was founded by Changpeng "CZ" Zhao, a Chinese software developer who previously built systems for the Tokyo Stock Exchange and developed futures trading software for Bloomberg's Tradebook.
CZ has accumulated $96 Billion, according to a recent Bloomberg article, making him the wealthiest of the cryptocurrency elite. Some estimates of his wealth are even higher due to his persona holdings.
Although initially based in China, a crackdown in regulations on cryptocurrencies there led the exchange to move to Japan. However, when Japan's FCA issued Binance a warning, they decided to relocate to Malta.
Binance is the exchange of choice for coin-to-coin cryptocurrency trading with some of the largest numbers for available coin pairs and trading volumes in the industry. However, since we first wrote this article it has added many new features and now many use it for margin and derivatives trading. As little as one year ago you needed to use Bitmex or Bitfinex to do that, but now it can all be done without leaving the exchange.
Binance has also added fiat currency trading to its flagship exchange, meaning it is no longer strictly a cryptocurrency-based exchange. Users can now trade and cash out in 15 fiat currencies.
Note:
Binance previously launched a fiat-to-cryptocurrency exchange named Binance Jersey, which it has
since shut down
.
Binance also boasts low fees for trades and withdrawals. Trading fees are discounted if the user is holding Binance Coin (BNB).
| Level | 30d Trade Volume(BTC) | & | BNB holdings | Maker | Taker | Maker | Taker |
| --- | --- | --- | --- | --- | --- | --- | --- |
| General | < 100 BTC | or | ≥ 0 BNB | 0.10% | 0.10% | 0.08% | 0.08% |
| VIP 1 | ≥ 100 BTC | & | ≥ 50 BNB | 0.09% | 0.10% | 0.07% | 0.08% |
| VIP 2 | ≥ 500 BTC | & | ≥ 200 BNB | 0.08% | 0.10% | 0.06% | 0.08% |
| VIP 3 | ≥ 4500 BTC | & | ≥ 1000 BNB | 0.07% | 0.09% | 0.05% | 0.07% |
| VIP 5 | ≥ 20000 BTC | & | ≥ 3500 BNB | 0.05% | 0.07% | 0.04% | 0.05% |
| VIP 8 | ≥ 150000 BTC | & | ≥ 11000 BNB | 0.02% | 0.04% | 0.02% | 0.03% |
In 2017, Binance became the exchange with the largest trading volume, largely due to its huge selection of crypto assets available to trade. In February 2020, In an effort to sustain its impressive growth, Binance introduced margin trading, which is now available for BTC, ETH XRP, BNB, ETH and TRX.
Binance has made some interesting acquisitions over the years, including Trust Wallet in 2018 and CoinMarketCap in April, 2020.
In July 2020, Binance celebrated a 1 billion USD purchase volume on their Binance USD (BUSD) trading volume, which is a US dollar-denominated stablecoin. The billion dollar milestone for BUSD is a testament to how popular Binance's trading products have become, as BUSD is an easy way to enter and exit positions.
CEX.io is a fiat-to-crypto exchange that offers some advanced trading features while still being very friendly for beginners to use.
Otherwise experienced investors who are new to cryptocurrencies often use CEX.io for the kind of trading that they are accustomed to with traditional securities and platforms.
CEX.io allows for free bank transfers for verified accounts and charges a small fee for unverified accounts using VISA or Mastercard. CEX.io also features low trading fees.
Most CEX.io users are drawn to the advanced trading features that traditional cryptocurrency exchanges do not generally offer. CEX.io also offers margin trading, which is essential to many trading strategies.
CEX.io does have a limited offering of cryptocurrencies, though it covers all the major coins. It also allows for a variety of coin-to-fiat pairs, including EUR, GBP, and RUB, which most exchanges do not.

Bitfinex is among the most advanced fiat-to-crypto and crypto-to-crypto trading platforms, boasting some of the highest liquidity and trading volumes among exchanges.
Bitfinex has few rivals when it comes to cryptocurrency traders who are looking to implement advanced trading techniques and trade large volumes.
Bitfinex offers the full range of features that traders expect from a platform, including advanced order types, margin trading, and a vast range of coins and fiat currency pairs.
Bitfinex also boasts low fees that are geared toward high-value traders, with fees dropping dramatically as the trade value increases. It is super popular among large traders in Asia and probably has the deepest order books among all cryptocurrency exchanges.
Bitfinex has suffered two major hacks in the past as its massive volumes made it a prime target, but they have since paid back all losses to clients and significantly improved their security set up to be among the best in the industry.
Bittrex is a crypto-to-crypto exchange that was designed with one priority in mind above all else: security. Bittrex is one of the few exchanges that is founded and run in America, so it's a great option for traders in the US, and it is fully compliant with US' laws.
Bittrex was designed by a team with decades of experience in security for major software developers, such as Microsoft and Amazon. Bittrex also keeps most of its client funds in cold storage (inaccessible to hackers) and has a robust system for verification.
In addition to security, Bittrex focuses on offering an enormous range of crypto-to-crypto trading pairs. It used to have the highest volumes in the industry, but these days it has really lagged behind and lost much of it's first mover advantage.
While Bittrex may not be the first choice for experienced cryptocurrency traders looking to trade major coins, it is arguably the best exchange for trading less popular coins.
Bittrex does have slightly higher trading fees than most exchanges and accounts can only be funded using Bitcoin, Ether or Tether.
Coinmama is a simple cryptocurrency broker that offers users a quick and easy way to buy coins using fiat currency without needing to store them on a third party exchange.
Coinmama is ideal for people who simply want to purchase a cryptocurrency using fiat money without delays, hassles, lengthy registration, or hacking risk.
Most often, people will make an initial cryptocurrency purchase using Coinmama, and then deposit the resulting coins from their personal wallet into a crypto-to-crypto exchange.
In early 2020, Coinmama announced a loyalty program for their highest volume users, offering a way to lower fees by up to 25%. Coinmama offers a three-tiered loyalty program which starts after a minimum purchase amount of $5,000 up to $18,000 over a rolling 90-day period. Users can become 'crypto curious' at the lowest tier, all the way up to a 'crypto believer' at the highest membership tier.
Coinmama does charge relatively high fees for its services, so it is only recommended for users that are willing to pay a premium for speed, discretion, and simplicity.
Kraken is one of the oldest and largest cryptocurrency exchanges. At one time we felt it was lagging, but it has recently improved a lot. It is also considered to be the most trustworthy exchange in the whole space. It is very good for both a fiat on-ramp and off-ramp.
It trades in both cryptocurrencies and fiat currencies, with a larger number of pairs available than most similar exchanges, though not by an enormous amount.
Kraken caters to advanced cryptocurrency traders by offering features like margin trading, OTC, and futures, though it does also make an effort to be accessible for beginners as well.
Advanced traders will find all the features that they expect from an advanced platform, as well as relatively low fees that scale down with volume size.
Kraken promotes its essential features as having:
A comprehensive security approach
An intuitive crypto trading platform
Fees as low as 0%
A global 24/7 support team
A range of funding options
Kraken did have some performance issues in 2018 that garnered it a slightly poor reputation, but it has performed problem-free since then.
Changelly offers a rare service in the crypto space: fast and anonymous crypto-to-crypto transfers with no third party holding.
Changelly is not designed for investing or trading, but rather as a fast, discreet and efficient means for exchanging the coins in your private wallets.
Changelly works by offering you competitive exchange rates for a large range of coins and then making the transfer directly between your own private wallet.
For this service, Changelly charges a higher fee than most trading and investing exchanges, but not excessively so. The premium paid is for the anonymity and simplicity compared to a more traditional crypto-to-crypto exchange.
Changelly does also allow fiat-to-crypto exchanges, but these have notoriously high and opaque fees, and this service is not widely used.
Prime XBT is a next-generation fiat-to-crypto exchange that offers cutting-edge trading tools, extremely high leverage and pooled liquidity from other cryptocurrency exchanges.
This combination of features makes Prime XBT a top pick among advanced traders looking to capitalize on short term price movements in the top 5 coins.
Prime XBT accounts can be directly funded with Bitcoin or indirectly funded through Changelly using fiat or other coins.
Prime XBT offers by far the lowest trading fees in the industry, as well as the highest liquidity by drawing on the trading volumes from the top 12 existing exchanges.
Prime XBT also has an extremely advanced interface, the ability to short crypto/fiat pairs and up to 100 times leverage, which is far more than the 2 to 3 times leverage offered by even the most competitive trading platforms.
For those who want to increase their purchasing power in pursuit of bigger and faster profits, BitMEX is undoubtedly the king in this area with its cryptocurrency derivatives trading platform that provides up to 100x leverage.
That means if your account balance stood at either $10,000 or 1 BTC, you would be able to trade with funds worth up to $1 million or 100 BTC respectively thanks to the leverage offered. We do not recommend using 100x leverage, as it is a gamble and basically the same as playing roulette in a bitcoin casino.
You can see how this has the potential to hugely increase gains, and equally, massively increase losses! And with it widely reported that "95% of traders fail" and lose money across most financial markets, this leverage should definitely be utilized with caution.
Nonetheless, leverage certainly has its benefits and BitMEX is a vastly popular trading platform, so it's definitely doing a lot right. BitMEX has excellent security, it's easy to sign up, and allows its users to trade 8 different cryptocurrencies both long and short.
So, whether you're an aggressive trader looking for big returns, or simply looking for a way to free up some trading capital or go short, BitMEX is definitely a leading exchange that's worth checking out.
June 2020 update – Bitmex has started to lose its top dog position in the derivatives space due to increased competition and some big liquidation events. It will be interesting to see how the future unfolds for it.
Forbes – Kraken could be violating regulations
The Guardian – Bitfinex clients to share 36% loss
Business Wire – Coinbase announces bridge between futures and cryptos
Disclosure: Blokt strives to provide transparent, honest reviews, and opinions. The writer of this article is a user of the product(s) or service(s) mentioned in this article and was not influenced by the respective owners.
We rarely run ads, but sometimes earn a small commission when you purchase a product or service via a link on our site. Thank you kindly for your support.
Read more or donate here.