Coinbase is one of the world's largest cryptocurrency exchanges and was one of the pioneers in popularizing cryptocurrencies and making them accessible to the general public for investments and transactions.
In this new Coinbase review for 2023, we cover everything you need to know about Coinbase's flagship exchange (Coinbase.com).
Coinbase allows its users to buy and sell a variety of cryptocurrencies including Bitcoin, Ethereum, Litecoin, EOS, Tezos, Stellar Lumens, Bitcoin Cash, and many others. They also have a recurring buys feature which allows users to invest in cryptocurrency at a scheduled interval.
Coinbase's mission is to be the most trusted and the easiest to use cryptocurrency exchange. It has been very successful in achieving this so far and is today one of the leading on-ramps to the cryptocurrency world.
As an exchange, Coinbase has focused on introducing consumers to the world of cryptocurrency and allowing them to purchase major cryptocurrencies, store them on exchange supported wallets and use them to perform transactions.
"At Coinbase, our first priority is to ensure that we operate the most secure and compliant digital currency exchange in the world."
Brian Armstrong
,
Co-founder & CEO of Coinbase
Coinbase enables users from select jurisdictions around the world to buy cryptocurrencies with their local fiat currency as well as sell cryptocurrencies and withdraw fiat currency. This, in combination with its trusted and well-known brand, has made Coinbase immensely popular.
As many cryptocurrency exchanges do not support fiat currency deposits or withdrawals, Coinbase often acts as a bridge between a user's fiat-based bank account and other crypto-to-crypto exchanges.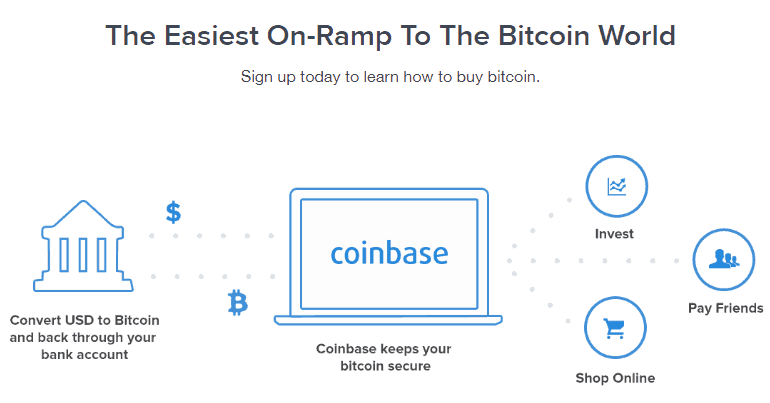 This focus on the average consumer, adherence to US financial regulations and oversight, and the provision of fundamental cryptocurrency transactions have made Coinbase one of the most profitable cryptocurrency exchanges.
Coinbase also has the backing and support of some high-profile investment firms, hedge funds, and sovereign wealth funds.
Note: Coinbase is currently valued at $8 billion after raising $300 million in a Series E funding round.
Coinbase's focus on accessibility, simplicity, and compliance has, however, limited the scope of what Coinbase users can do in terms of fiat-to-crypto and crypto-to-crypto trading and advanced investing.
Coinbase currently only offers a small number of trading pairs (compared to some other leading exchanges such as Binance), limited trade order types, and analytical tools meaning that Coinbase's flagship platform is best suited for beginner cryptocurrency investors.
However, Coinbase also has an alternate platform for more advanced cryptocurrency investors called Coinbase Pro (or Coinbase Prime for institutional investors).
Coinbase Pro offers a much more comprehensive trading platform, with advanced trading tools, a larger number of fiat-to-crypto and crypto-to-crypto trading pairs and lower trading fees.
Coinbase users can easily upgrade their accounts to get access to Coinbase Pro and are able to send funds between Coinbase and Coinbase Pro instantly and for free.
If Coinbase sounds like it could be the cryptocurrency exchange that suits your needs, then please read on for further details.
Coinbase Facts Sheet
Exchange Type:
Centralized
Fiat-to-Crypto:
Yes
Crypto-to-Crypto:
Yes
Number of Fiat Currencies Traded:
1 – 2 (depending on jurisdiction)
Number of Cryptocurrencies Traded:
5-15 (depending on jurisdiction)
Number of Countries Supported:
42
Number of Fiat Currencies Supported:
50+
Bank Deposits:
Yes
Credit/Debit Cards:
Yes
Wire Transfers:
Yes
PayPal:
Yes
Exchange Wallet(s):
Yes
Account Size Limits:
No
Margin Trading:
No
Trading Fees:
0.5% spread for fiat-to-crypto trades,
1% spread for crypto-to-crypto conversions
Deposit/Withdrawal Fees:
Free in some cases, check our 'Fees' section below.
Headquarters:
San Francisco, California, United States
Incorporated:
United States
Coinbase shared humble origins with cryptocurrency in general when its founders, Brian Armstrong, and Fred Ehrsam, first established the company in 2012 as a simple way for people to buy and sell Bitcoins using bank transfers.
At the time this was an enormous leap in terms of cryptocurrency accessibility, as previously Bitcoin transactions required a certain degree of technical know-how and the use of more sophisticated financial payment systems, such as offshore wire transfers, or the use of less than reputable financial intermediaries.
This early focus on accessibility and security then continued in each successive step as the company grew into a massive global exchange for the world's largest cryptocurrencies.
The next big leap in Coinbase's development occurred in 2014. Coinbase further expanded the popular awareness of Bitcoin and cryptocurrency in general by working with major service providers to accept Bitcoin as a direct form of payment.
2014 was also the year where Coinbase began working with newer financial intermediaries, such as Stripe and Dish, to enable Bitcoin payments on their systems.
We're excited to support Dish and their current and new subscribers for their Bitcoin transactions. This is a large step forward in the growing momentum of customers paying companies in Bitcoin for things we do every day, like watching premium TV.
Fred Ehrsam, co-founder of Coinbase
However, it was in 2015 that Coinbase profoundly transformed the crypto space when it unveiled its new licensed U.S. Bitcoin exchange.
After extensive efforts to establish themselves as a regulated US financial institution, Coinbase launched as the first regulatory approved cryptocurrency exchange.
While many of the more libertarian crypto enthusiasts saw this effort as a 'sell-out' to the traditional financial forces that cryptocurrency was meant to disrupt, the effort helped to catapult Coinbase to the extreme customer numbers and valuations that define it to this day.
On April 14, 2021, Coinbase's shares went public on the Nasdaq exchange under the stock ticker COIN. It opened at $381 per share. In February 2022, it traded at $198, 48% lower than its opening price. At the time of writing, October 2023, Coinbase is trading at $75, 62% less than the February value.
With the staggering surge in popularity of NFTs, Coinbase jumped on the bandwagon with the launch of Coinbase NFT. You can get involved here.
In January of 2022, Bored Ape Yacht Club & its Mutant variation, two popular NFT projects, accounted for more sales on Opensea ($495M) than the movie industry collected at the box office ($482M).
In January BAYC & MAYC did more in sales on Opensea ($495M) than the global movie industry did at the box office ($482M)

— Nick Tomaino (@NTmoney) February 1, 2022
Coinbase is clearly hoping to be a part of the NFT space and its recent collaboration with Rolling Stone is another exciting example of this. The two big brands planned to mint an exclusive NFT which dropped to Coinbase Wallet users at Rolling Stone Live.
As a platform for cryptocurrency investments and transactions intended for new and basic users of cryptocurrencies, Coinbase's features are designed to be simple and accessible for the needs of its core customers.
These main features include buying and selling cryptocurrencies, performing transactions with cryptocurrencies, crypto-to-crypto conversions, cryptocurrency storage, and extensive educational resources.
Coinbase is our flagship app, available at coinbase.com and on iOS and Android. It is the most trusted and easiest to use on-ramp to cryptocurrency, and the place that you can refer your friends and family members who are new to the world of crypto. We'll introduce the most proven features here, with a real focus on education and quality.
Brian Armstrong, co-founder of Coinbase
Coinbase has recently announced its plans to support Ethereum 2.0 Staking. In a recent blog post from the Coinbase blog, Coinbase states it plans to begin staking and trading for ETH 2.0 starting in early 2021. Coinbase will allow its users to trade between ETH 2.0, ETH, and all other supported currencies. It is so far unclear within which jurisdictions users will be able to stake their Ethereum 2.0, but this should become clear in the near future.
Buying and Selling Cryptocurrency
You can buy and sell cryptocurrencies by clicking the 'Buy/Sell' tab when you log into your account.
You can also buy and sell cryptocurrencies by either going to a cryptocurrency's page directly or going through your account's wallet for that cryptocurrency.
Each cryptocurrency will have some basic historical price data displayed as well as the option to either buy or sell this cryptocurrency.
Coinbase currently offers 5 major cryptocurrencies for investing in all supported jurisdictions, and up to 10 more with varying levels of support depending on the jurisdiction.
Cryptocurrencies can also be purchased on mobile devices through the Coinbase iOS and Android applications.
A range of payment methods can be used, including credit/debit cards, banks transfers, and wire transfers using fiat currency. Crypto-to-crypto conversions are also possible, as explained in detail below.
Cryptocurrency Transactions
Coinbase offers account holders several different methods for using their cryptocurrency for transactions, including physical goods, digital products, gift cards, and donations or gifts.
Most cryptocurrency transactions will be handled using merchant-hosted software, requiring only some basic account information to confirm the transaction from Coinbase.
However, Coinbase also supports manual payments from your cryptocurrency wallets and direct cryptocurrency transfers using cryptocurrency addresses.
Crypto-To-Crypto Conversions
Coinbase offers customers the option of direct crypto-to-crypto conversions without the need to buy and sell the coins using USD or fiat currency as an intermediary.
Instead, these conversions rely on other cryptocurrencies as the primary unit of account. However, Coinbase does display the value of conversions in your chosen fiat currency to make the process user-friendly.
Currently, Coinbase offers conversions between 15 different cryptocurrencies.
All conversions are automatic and instant using the given exchange rates at the time.
What Cryptocurrencies Are Listed on Coinbase?
Coinbase.com currently has a minimum of 5 and a maximum of 15 cryptocurrencies available for direct buying and selling using fiat currency, the amount available to you will depend on the jurisdiction you are based in. However, all 15 cryptocurrencies are tradable in crypto-to-crypto conversions for all supported jurisdictions (US, EU, UK, AU, CA, and SG)
The supported cryptocurrencies are Tezos (XTZ), Basic Attention Token (BAT), Bitcoin (BTC), Bitcoin Cash (BCH), Dai (DAI), EOS (EOS), Ethereum (ETH), Ethereum Classic (ETC), Chainlink (LINK), Litecoin (LTC), Augur (REP), USD Coin (USDC), Stellar Lumens (XLM), XRP (XRP), Zcash (ZEC), and 0x (ZRX).
Coinbase Pro, on the other hand, has a minimum of 9 and a maximum of 11 cryptocurrencies available to trade with fiat currencies, depending on the region you are from. The total amount of supported cryptocurrencies is higher with up to 20 available for crypto-to-crypto trades.
It's worth noting that the number of tradable cryptocurrencies on both Coinbase and Coinbase Pro is expected to continue to rise.
To accommodate for security concerns associated with online accounts, Coinbase offers a 'vault' feature that acts as an extra secure wallet for storing any of the cryptocurrencies that are supported by Coinbase in your jurisdiction.
The vault has additional optional layers of security, such as multiple email account checks, and a critical 48 hour waiting period during which the withdrawal process can be canceled at any time.
The vault option allows users to store the bulk of their cryptocurrency assets securely, while only releasing funds to their main account wallets as necessary.
As a cryptocurrency exchange focused on accessibility and the popularization of cryptocurrencies, Coinbase offers an extensive list of educational resources for its users.
For complete beginners, Coinbase has created a learning resource that answers every question about cryptocurrencies that a newcomer could possibly have.
Coinbase also recently unveiled Coinbase Earn, which gives users the opportunity to learn about cryptocurrencies while also earning them at the same time.
Currently, Coinbase Earn has courses available on 0x (ZRX), Basic Attention Token (BAT), and Zcash (ZEC).
Coinbase also has a blog that is regularly updated with both company and industry related news and articles.
It is also worth mentioning that Coinbase has one of the most extensive customer support systems, including a frequently asked questions page that covers practically everything that a user would need to know about Coinbase itself.
Coinbase also allows its users to acquire a 'Coinbase Card' which can be used to spend your crypto holdings instantly worldwide. This physical Visa Debit card automatically syncs with your Coinbase account balance and allow contactless payments as well as ATM withdrawals.
The card can be easily managed and tracked via the Coinbase Card app that is available for Android and iOS Devices. Since the launch of Coinbase Card in early April 2019, it has already facilitated its customers in spending over $1 million.
Our first milestone. Here's to many more. pic.twitter.com/Quoibwm0KY

— Coinbase Card (@CoinbaseCard) June 26, 2019
Registration and Authentication Process
Coinbase has a substantial process for registering and authenticating accounts, which is either a major positive or negative depending on the nature of the customer.
First, you need to register using your name, email address, and legal jurisdiction after confirming that you have read all the assorted terms and conditions.
They will then send you a verification email to the given address to ensure that you are using your own email address.
Once your email address is confirmed, the two-step identification process will require that you submit a randomized code that is forwarded to your mobile device after inputting your mobile number.
This will establish your Coinbase account, but you still need to verify your identity before you can fund your account and begin making transactions.
For US customers, Coinbase requires an extensive list of personal information, including your address, employer and the last 4 digits of your SSN number. They will then ask you to upload an image of your photo ID.
You will then be prompted to add the details of your payment methods, including options for bank accounts, wire transfers, debit/credit cards, and PayPal.
Coinbase has a range of fees for its various services, as well as fees when moving fiat currency in and out of your Coinbase account.
Coinbase's fees for buying and selling cryptocurrencies are slightly complicated.
First, in all cases, there is an approximately 0.5% spread that Coinbase places on the current market rate for any cryptocurrency, and the size of this spread can fluctuate depending on current market circumstances.
This means that any purchase of a cryptocurrency will be at a 0.5% higher price than the actual market price at the time of the transaction, and 0.5% lower in the case of a sale.
Coinbase also charges its 'Coinbase Fee' on all transactions, which is the greater of either a flat rate or a percentage rate depending on location and payment type.
The flat fee only applies to amounts less than $200 to account for the costs of processing. In most cases, Coinbase's rate of 1.49% per transaction will apply (3.99% for credit and debit cards).
Cryptocurrency Conversions
For conversions between supported cryptocurrencies, Coinbase does not charge a fee but rather implements an approximately 1% market spread. The size of this spread is also subject to current market forces.
This means that you will be paying 1% more than the market rate for the purchased cryptocurrency in terms of the cryptocurrency that you are spending to complete the purchase.
Deposits and withdrawals via wire transfer take business 1-3 days, and bank account (ACH) deposit or withdrawals take 4-5 business days.
Deposits and withdrawals via SEPA transfers take 1-3 business days.
Deposits and withdrawals via GBP bank transfers usually complete within a business day. EUR withdrawals via SEPA transfers take 1-3 business days.
  Canadian and Australian Customers
Coinbase doesn't have CAD or AUD wallets on its platform so it cannot support the selling of cryptocurrencies in Canada and Australia. However, these users can sell their cryptos through Coinbase using PayPal, but the funds will go directly to their PayPal accounts and cannot be held on Coinbase.
  Selling or withdrawals using PayPal:
Customers in the USA, Europe, UK, Canada, and Australia are able to withdraw funds instantly using PayPal.
| | Buy Cryptos | Sell Cryptos | Deposits | Withdrawals | PayPal |
| --- | --- | --- | --- | --- | --- |
| USA | Fees as low as 1.49% | Fee: 1.49% | Free (ACH) or $10 (Wire) | Free (ACH) or $25 (Wire) | Free withdrawals (USD) |
| Europe | Fees as low as 1.49% | Fee: 1.49% | Free (SEPA) | €0.15 (SEPA) | Free withdrawals (EUR) |
| UK | Fees as low as 1.49% | Fee: 1.49% | Free (Bank wire) | £1 (Bank wire) | Free withdrawals (GBP + EUR) |
| Canada | Fee: 3.99% (Credit/Debit Card) | No CAD wallet (Paypal only) | No | No | Sell cryptos to CAD |
| Australia | Fee: 3.99% (Credit/Debit Card) | No AUD wallet (Paypal only) | No | No | Sell cryptos to AUD |
Coinbase is considered one of the most secure cryptocurrency exchanges in the industry.
It has layers upon layers of security that make a successful hack or theft highly unlikely, as well as an insurance program covering all digital and fiat deposits stored in its accounts.
Some of these security features are enforced on users to protect their accounts from being accessed illegally and to delay any unauthorized transactions or transfers.
One of the most prominent security features of Coinbase is that it stores up to 98% of the value of its digital assets in 'cold storage,' which means that these assets cannot be accessed or manipulated through the Internet, but are rather stored as a physical copy disconnected from the Internet completely.
These physical copies are then stored in distributed safety deposit boxes around the world, making a focused theft of any large portion of client assets effectively impossible.
"With hot storage there are a lot of details that you need to get right to keep the funds safe. Is it possible to get all those details right? Yes, and I'm comfortable using hot storage for reasonable amounts. Do I want to bet my entire business on all those details being right indefinitely? Probably not."
Brian Armstrong, co-founder of Coinbase
Similar to its digital assets, Coinbase's client data is encrypted and stored offline on paper and USB backups, which are also distributed in safety deposit boxes around the globe.
Mandatory 2-Step Verification
While 2-step verification is an option for many online payment systems, Coinbase has a mandatory 2-step verification system for logging in and various account activities.
The 2-step verification methods include using an authenticator app or having a code sent by text message to your accounts verified phone number.
While account names and passwords may be accessed due to client error, clients are much less likely to lose their mobile phones, which dramatically reduces the effects of theft due to client security failures.
Clients have the option of storing some or all of their digital assets in a separate 'vault' wallet that has additional optional security features and a fixed 48 hour waiting period for all withdrawals.
This feature means that even in the event of an account being compromised, the client has 48 hours to cancel any unauthorized transactions out of the vault wallet.
Coinbase operates on financial industry best practices for institutional security, including employee background checks, encrypted hard drives, and the latest in IT security features.
Coinbase's institutional security is so well-respected that it offers a custodian service for digital assets for other financial institutions, such as hedge funds and investment firms.
As a final safeguard for client funds, Coinbase has insurance covering all assets in its care.
For digital assets, Coinbase offers free insurance coverage, while fiat assets are covered by FDIC deposit protection for up to $250,000 per account.
The Pros and Cons of Coinbase
Now that we have covered all the essential info, it is time to breakdown our review of Coinbase into a simple list of Pros and Cons that will help you to decide if this is the right cryptocurrency exchange for you.
It really does not get any safer in terms of cryptocurrency exchanges than Coinbase. Coinbase's security features range from mandatory 2-step verification to institutional industry best practices to cold storage of 98% of digital assets to insurance for both digital and fiat assets. All these security features add up to make Coinbase as safe as is possible when it comes to protecting your assets.
Coinbase is designed with the beginner and simple cryptocurrency user in mind. It is a place where anyone from a wide range of countries can come to buy and sell major cryptocurrencies, transact in those cryptocurrencies, store those cryptocurrencies and convert between them. These are the basic features that people new to cryptocurrency require, and they are provided with an intuitive and easy-to-use interface.
Coinbase has an extensive customer support system and a huge range of information resources that teach beginners everything they need to know and keep users up-to-date with the latest relevant news and information.
From dedicated learning resources to an extensive frequently asked questions page to a regularly updated blog (often featuring articles by company executives including the co-founders), Coinbase offers an unparalleled level of information and support aimed at both beginners and more experienced clients.
  Payment Options & Fiat Support
Coinbase offers users the full range of payment options, from bank accounts and wire transfers to credit cards and PayPal. There is effectively no major online payment option that Coinbase does not accept, which is a huge bonus for people that are used to being unable to transact in cryptocurrency due to not having the appropriate payment options.
Fiat currency deposit and withdrawal fees are low or even free in some cases for users from the US, UK, and Europe. For this reason alone, many crypto users will want to have a Coinbase account, simply to act as a bridge between the fiat world and the crypto world.
Coinbase is expensive; there is no denying it. The fees and spreads charged for fiat-to-crypto and crypto-to-crypto transactions are among the highest in the industry. Many people who choose an alternate exchange for their cryptocurrency needs do so to avoid the extremely high fees and spreads that Coinbase charges. Coinbase users can also quickly open a Coinbase Pro account which has lower fees.
While Coinbase's high degree of regulation can be seen as a huge benefit for some users, for others, it is actually one of the biggest drawbacks. Many people find that Coinbase's verification and security measures are excessive. Furthermore, many people use cryptocurrencies precisely because they want to avoid excessive regulation and oversight of their financial affairs.
  Limited Cryptocurrencies and Trading Features
Coinbase is not the exchange of choice for people looking to invest and trade in a large number of cryptocurrencies seriously. Although Coinbase does offer access to most major coins, the lack of access to less popular coins can be a huge drawback for cryptocurrency investors and traders. Furthermore, the lack of any advanced analytical tools means that traders would need to rely on outside data and tools to perform their trading strategies. Coinbase Pro does offer a larger selection of coins, but it is still much less than some other exchanges.
Coinbase Explores DeFi Projects
Coinbase have recently taken a special interest in decentralized finance, or 'DeFi', which is a huge and growing sector of the blockchain industry that has generated a great deal of hype in recent months.
In simple terms, DeFi projects aim to bring traditional financial features, like earning interest, to the crypto space.
Users of decentralized finance products normally engage in what's known as 'yield farming', which generally involves staking or committing all or a portion of their crypto assets to a 'DeFi lending protocol' – which is usually a smart contract that automatically generates yields for its users.
For example, some DeFi solutions such as Compound allow users to lend out their crypto assets to other users seeking finance solutions, or to third-party liquidity providers, in order to earn a generous amount of interest.
The Coinbase Wallet app now allows users to earn interest through DeFi products directly through their app, with yields of up to 6% APR. These products were traditionally accessed through Coinbase's DApp browser, or by using WalletLink on users' desktops.
However, Coinbase have recently made it easier than ever for their users to earn interest on crypto funds through their app, which can be accessed and lent out to other users at the click of a button.
While no one can argue that Coinbase is not a major force in the modern crypto space, its suitability for your needs ultimately depends on the type of cryptocurrency investor and the user you are.
Despite being an immensely popular cryptocurrency platform, it may not be the best fit for everyone, especially those who are looking to trade a large selection of digital currencies.
However, many users will still find having a Coinbase account worth it due to its trustworthiness and fiat currency support that provides a bridge between the fiat world and the crypto world.
Coinbase's high fees do make fiat-to-crypto and crypto-to-crypto conversions expensive, thereby limiting the number of transactions that users will want to perform.
However, Coinbase remains one of the best choices for users who require only the basics and are willing to pay a premium for the security and simplicity that Coinbase offers.
If you intend to buy and hold one or a few major cryptocurrencies for an extended period and/or wish to have a secure cryptocurrency wallet for making crypto transactions with, then Coinbase is undoubtedly one of the best options on the market.
Unparalleled levels of security and extremely intuitive interfaces designed with beginners in mind mean that you will be able to simply and safely perform basic crypto transactions and investments. As for the higher fees that Coinbase charges, this will be a small price to pay for the ease-of-use and peace of mind that you are getting.
It is also important to note that Coinbase users can easily utilize Coinbase Pro if they find that they have outgrown the usefulness of Coinbase and are looking for a more advanced and sophisticated cryptocurrency platform for their investing or trading.
All you have to do is log into Coinbase Pro using the same login credentials you use for Coinbase, accept the terms and conditions, and then the new Coinbase Pro account will be automatically linked to your existing Coinbase account.
Coinbase Pro offers many of the same features that initially drew in Coinbase customers, while also upgrading to a platform and fee structure that is far more conducive to active investing and trading in the crypto space.
Disclosure: Blokt strives to provide transparent, honest reviews, and opinions. The writer of this article is a user of the product(s) or service(s) mentioned in this article and was not influenced by the respective owners.
We rarely run ads, but sometimes earn a small commission when you purchase a product or service via a link on our site. Thank you kindly for your support.
Read more or donate here.