Choosing the right Virtual Private Network, or VPN is critical when it comes to protecting your online safety. Given the number of options available, narrowing down the search can be downright intimidating.
In this article we will put two popular VPNs head to head. Today, it's a showdown featuring CyberGhost vs. NordVPN. We'll take an in-depth look at several different features, and at the end, we'll declare a winner, so be sure to read all the way through.
Let's start with a brief overview of the two competitors we'll be reviewing in this article. Both are popular services and have great reputations, but which one is best?
CyberGhost has risen to popularity thanks to its economical pricing and reputation for being on of the best VPNs for torrenting and streaming. CyberGhost utilizes more than 3,500 servers in sixty countries, and users can expect exceptional customer service, as well as reliable privacy protection.
CyberGhost is based in Romania, though Israeli company Kape Technology owns it. It's worth mentioning that Kape Technology is a company formerly known as Crossrider, a brand that was known to spread malware.
This VPN supports Windows, Mac, iOS, Android, and Linux, and allows simultaneous connections on up to seven devices. For users after an in-depth analysis, you can read our full CyberGhost Review.
NordVPN is one of the best VPNs on the market. It has made its name due to the high-quality service it provides users: fast connections, extensive global server coverage, and consistent access to Netflix, which makes NordVPN an attractive option for movie lovers and gamers.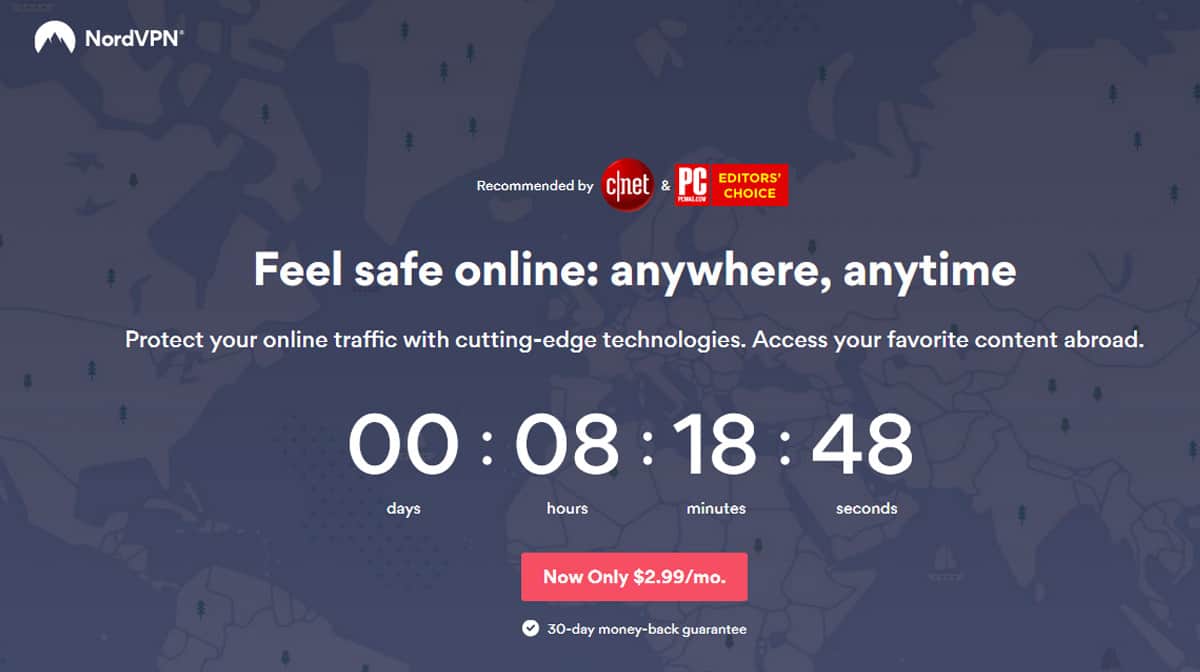 NordVPN is based in Panama, and it supports Windows, Mac, and Linux operating systems. It also includes browser extensions for Chrome and Firefox. For a more detailed look, you can also read our NordVPN Review.
NordVPN and CyberGhost provide similar features, each capable of multiple simultaneous connections (six and seven, respectively) and excellent multi-platform support. They also both offer ad and malware-blocking protection, as well as extensions for Firefox and Chrome.
If you're trying to decide between the two, each service is geared toward a different user. NordVPN has advanced features designed to enhance user security, so if that's what you're concerned about, NordVPN may be the better choice. CyberGhost is better for technology novices, as its focus is on being easy to use.
Pros and Cons: CyberGhost
Let's start our in-depth analysis by taking a look at some of the pros and cons of CyberGhost.
Automatic kill switch
Value pricing
Easy account setup
Live chat support included
45-day money back guarantee
DNS and IP leak protection
OpenVPN, L2TP-IPSec, and PPTP protocols
Lower speeds and poor performance
False "no logs" statements
Adblocker does not work on HTTPS websites
Pick up CyberGhost
Now let's take a look at some of the advantages and disadvantages of using NordVPN.
Torrenting/P2P allowed
30-day money back guarantee
Live chat support included
Works with Netflix and other streaming systems
Ad-blocker
Double data encryption
Strict no logs policy
30-day money back guarantee refunds can take up to a month to process
Discounts available for longer subscriptions only
Pick up NordVPN
Performance and speed are both critical factors to consider when choosing a VPN, primarily because VPNs are known to reduce network speed significantly. It's important to note that speed varies depending on certain factors, so it's difficult to say how fast a VPN is definitively. Some of these variables include:
Computer location
VPN server (or servers) location
Time of day
With all that in mind, how do CyberGhost and NordVPN compare?
CyberGhost falls short in this area, as this VPN is not known for its lightning-fast network speeds—we could even say that it's known for just the opposite. These slower speeds are especially noticeable when it comes to connecting via long-distance servers.
NordVPN, on the other hand, is regarded as offering its users high speeds. Users report that they can achieve around 90 percent or more of their maximum baseline speed, which is quite good. Speed can vary a bit when connecting via US servers, but this doesn't affect NordVPN's reliability.
As you can see, NordVPN is the clear winner of the speed category.
Users shouldn't experience issues with either one of these VPN providers, but how do they stack up when it comes to reliability—fast, uninterrupted, and stable connections—and support?
It's unlikely that you'll have problems with CyberGhost, which is highly reliable, but if you do, its website includes tutorials, guides, FAQs, and full explanations to common issues and VPN features.
It offers a 24/7 live chat and tickets for those users that do encounter trouble, but its customer support team's knowledge could use some improving. CyberGhost is not always able to answer questions adequately, which makes its customer support system one of the least robust ones.
NordVPN outshines CyberGhost in this aspect. It, too, offers incredibly reliable service, so you'll probably never need to contact support, but if you do, it provides customers 24/7 live chat and email support. NordVPN's website also includes a help center, FAQs, tutorials, and general information.
When choosing a VPN, it's critical to make sure that your sensitive data is safe from thieves looking for would-be prey and that your identity is safe—after all, these are some of the main reasons for using a VPN. So how do these two compare?
CyberGhost makes use of AES-256 bit encryption, which is known to be the most robust encryption mechanism. CyberGhost also follows highly secure VPN protocols to provide ample protection for your data against third parties.
Further, CyberGhost is based in Romania, a country that doesn't require companies to keep logs, and allows the user to pay for services using Bitcoin.
NordVPN also uses AES-256 bit encryption, as well as OpenVPN, to deliver robust security features for its users. And because NordVPN is based in Panama, a country that respects user right to online privacy, this provider isn't required to keep logs of customer activities. Like CyberGhost, you can pay for NordVPN using Bitcoin (see this guide in order to learn the best way to buy Bitcoin).
Both of these VPN services are out of the jurisdiction of 5 Eyes Alliance.
While these two services differ significantly in other areas, the price is not one of them. They are reasonably evenly matched price-wise, and both offer affordable payment plans.
As is the case with most VPNs, the cheapest options are the ones that require you to pay an annual sum. CyberGhost's yearly plan will cost you $59.88 upfront, which ends up being a price of $4.99 per month, and the month-to-month plan costs $11.99.
NordVPN, on the other hand, costs $69.00 annually, or $5.75 per month, and will set you back $11.95 per month if you decide to pay monthly.
Both services offer big discounts on longer-term subscriptions with NordVPN costing $2.99 per month and CyberGhost costing $2.75 per month currently for 3-year plans.
As you can see, CyberGhost and NordVPN are mostly the same in terms of price.
Being able to stream Netflix is one of the main reasons people use VPN services, which is why we wanted to include this category in our head to head competition. Because Netflix is excellent at detecting VPNs, your provider needs to stay on its toes to unblock Netflix. How effective are CyberGhost and NordVPN at doing this?
CyberGhost has had some issues with Netflix connectivity in the past, but it appears that recently they've uncovered new ways to allow users to stream this service.
NordVPN, on the other hand, has always been a heavyweight in this category and is known for being especially adept at uncovering methods of tricking Netflix. You should be able to stream Netflix in the US using NordVPN with no problem.
After taking a careful look at each of these categories, one winner emerged, and that winner is NordVPN.
What helped NordVPN claim victory? While it's true that the two offer similar features, this VPN provider outranked CyberGhost in connection speed, Netflix access, and global server coverage.
That said, CyberGhost and NordVPN are quite evenly matched in other categories like price, gaming, and platform support. We also found them to be more or less similar concerning their privacy features, with both competitors providing excellent protection.
Recommended
Disclosure: Blokt strives to provide transparent, honest reviews, and opinions. The writer of this article is a user of the product(s) or service(s) mentioned in this article and was not influenced by the respective owners.
We rarely run ads, but sometimes earn a small commission when you purchase a product or service via a link on our site. Thank you kindly for your support.
Read more or donate here.