CyberGhost is among the best VPN services as far as streaming video and unblocking geo-locked content is concerned. The application has been custom made for Amazon Firestick and Fire TV. Most VPNs require lengthy workarounds to connect to the services needed. On the contrary, CyberGhost ensures that you get connected in a matter of minutes. The VPN can be installed on any recent or second-generation Fire TV, stick or device.
If you want to know more about Cyberghost in detail then check out our review here. We go deep into the features, company policies around privacy, usability and much more.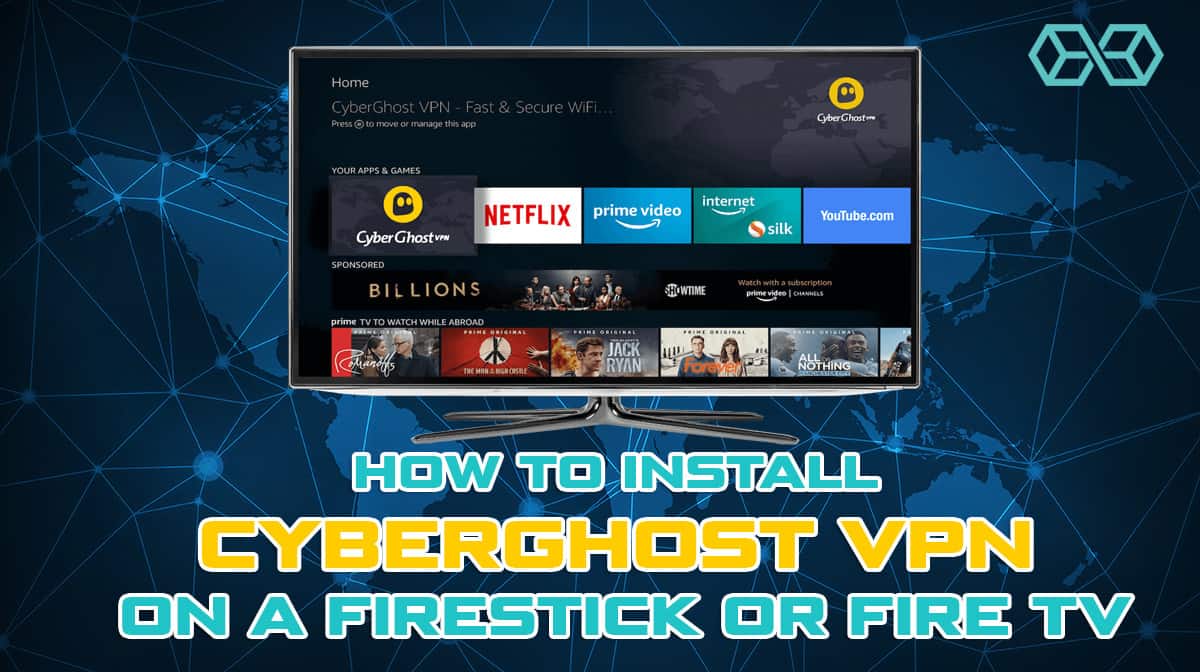 All you need to install the app is a CyberGhost username and password. CyberGhost can also connect to other devices but you will be limited in terms of the number of devices that can be connected. Here is how you can install CyberGhost on Fire TV in a relatively short amount of time:

Step 1. Turn on your Fire TV device
Step 2. On the home screen, you will see the magnifying glass icon. Click it to bring up the search bar
Step 3. Search for 'CyberGhost' and select the first result for 'CyberGhost VPN'
Step 4. A yellow 'Get' button will appear. Click it to download and install the CyberGhost application
Step 5. Once the app is successfully installed, the 'Get' button will automatically change to 'Open.'
Step 6. Click the 'Open' tab to launch the app
Step 7. Agree to the 'Terms of Service or Use' and allow VPN access. You will be asked to allow the application to set up a VPN connection. Select 'OK'
Step 8. Input your CyberGhost username and password then select 'Log in.'
Step 9. Click on the 'Connect' button to connect to the CyberGhost network
Step 10. If you do not want to connect to the pre-set location, you can move the cursor and select the 'Best Location' dropdown menu. A list will appear and you can select the server location that suits you best. You will also be able to see information about each server and you can select your favorites for future use.
How to Use CyberGhost with Kodi on Firestick
You may already have Kodi installed on your Fire TV device. If you do not have Kodi, you can install it by first installing the 'Downloader app.' Go to settings and enable the feature 'Apps from Unknown Sources.' Open the Downloader App.
Enter https://kodi.tv/download into the URL box. You will then go to the Android builds setting and select the 64-bit option if you have a new version firestick (Second Generation). For older firestick versions (First Generation), select the 32-bit option.
To tell which version of the firestick you have, take a look at the FCC ID number on the back. If the code is 2ABDU-0509, you have a first generation firestick. If the code is 2AE6S-0948, you have a second generation.
The file will begin downloading and after successful completion, select 'Install.' Once you have installed Kodi, you can be able to connect to any CyberGhost VPN using Kodi to safeguard your privacy.
Get CyberGhost
CyberGhost for Older Fire TV Devices
The CyberGhost app will not work if you are still using old model Fire TV devices such as the first generation Firestick. In this case, you will have to configure the VPN on your Wi-Fi router or set up a VPN protected virtual router on your computer.
Configuring the VPN on your Wi-Fi router depends on the router model and firmware. If your router's firmware does not support VPNs, you may need to replace it by 'flashing' which can be detrimental to your router.
Setting up a virtual VPN is an easier and less risky process. CyberGhost is an outstanding VPN that makes it extremely easy to unblock your favorite streaming sources including Netflix, BBC's iPlayer, Amazon Prime and Hulu among many others. The app maintains an uncompromising no-logs policy which has led it to receive high rankings in numerous VPN security assessment tests.

CyberGhost not only protects your privacy but ensures you do not lose speed with enough bandwidth to ensure impressive streaming quality. Are you considering a VPN that allows you to access anything available on the internet? CyberGhost is designed to ensure you don't miss anything.
If you want to learn more about this service, you should read our CyberGhost Review.
Disclosure: Blokt strives to provide transparent, honest reviews, and opinions. The writer of this article is a user of the product(s) or service(s) mentioned in this article and was not influenced by the respective owners.
We rarely run ads, but sometimes earn a small commission when you purchase a product or service via a link on our site. Thank you kindly for your support.
Read more or donate here.