While cryptocurrency prices can be a bit sluggish at times, the blockchain technology scene, and it's massive potential for a range of industries, is an entirely different matter. Spurred by the increasing use of blockchain technology outside of cryptocurrency, the nascent industry has seen an explosion of decentralized applications created, also known as dApps, in recent months.
Originally, the Ethereum blockchain was one of the main options for developers looking to make dApps. But since the EOS blockchain launched tools for developers to make dApps, it has taken a significant portion of the market.
Here we explore 10 top dApps on the EOS blockchain, based on users per 24H hours and, perhaps unsurprisingly, gambling apps dominate the rankings. Please note that the rankings are always changing so there may be changes by the time you read this article!
As its name suggests, the PRA Candybox is an EOS-based Candybox dApp where users can claim tokens at the four-hour intervals.
The dApp encourages users to pledge more EPRA tokens to increase their level. This results in shorter intervals between claims, which means they can grab more tokens and get ahead of their peers.
For wallet compatibility, PRA Candybox is integrated with EOS MeetOne, Math Wallet, TokenPocket, IMEOS, Lynx, OracleChain, 51Token, NOVA, and more. You can visit its site here for more details.
Blockchain technology is proving to be an attractive and secure playground for gamers, as blockchain-based gaming dApps have been sprouting up on various networks. Some games often manage to claim some of the highest rankings on DappRadar.
For instance, EOSKnights, the first EOS-based mobile game on the protocol claimed the top rank in the gaming category and is ranked second overall for dApps.
EOS Knights, which launched in September 2018, puts players skills to the test with them having to use their Knights to save a village.
The games also took advantage of blockchain's forte as all actions that are done by the player are performed in the form of smart contracts and securely stored on the EOS blockchain. For those up for the challenge, click this link to start your knight career.
Hold'em PokerKing (Gambling)
Online casino and gambling players are now beginning to realize the potential of using blockchain technology for their favorite pastime. In fact, one of the top dApps on the EOS is a blockchain gambling game called 'PokerKing.' PokerKing is the first professional Texas Hold'em dApp on the EOS network.
Smart contracts ensure that games are provably fair, as all game data is stored immutably on the blockchain. Likewise, winnings are assured and paid out via the smart contract – making blockchain gaming very secure.
Why bother going to physical casinos when you can play the games right on your mobile device? That is the concept of Big.Game, yet another gambling dApp on the EOS platform that has been gaining in popularity recently.
In essence, Big.Game is a casino on the blockchain, and its associated dApp has already launched two games called Dice and Poker war.
The company is also planning to launch more games in the future, such as Tri-Card Poker and SicBo. The developers from Big.Game say gambling on the blockchain is an entirely safe, decentralized and borderless system.
EOSBet is a popular blockchain casino and gambling dApp on the EOS platform. Last year, it made headlines when it became the first on-chain regulated gambling casino after securing an online gambling license from Curaçao.
According to its developers, EOSBet is meant to address issues surrounding centralized online gambling such as high fees, lack of trust and transparency, as well as the gambling house's huge advantage.
However, its promise of a secure online gambling environment was put into question when reports of a hack surfaced late last year. However, the incident was not enough to scare people from playing its Dice and Crash games, as it's managed to retain its top 10 ranking on the EOS network.
The FarmEOS dApp is not your run of the mill gaming platform. Instead, its players actually become shareholders, and every bet they place on any of its games earns them FARM tokens.
FarmEOS even introduced the PoB (Proof of Bancor) and DoP (Dividend of Price) as the games mining modes for computing dividends and platform revenues. There are already seven games available to play on the FarmEOS gaming platform. These are Dice, Crash, Farm3D, R-S-P, Roulette, Minefield, and Guess BJ.
Meanwhile, the team has already revealed upcoming games such as Treasure Box, Texas Poker, The Master, TT Races, and War of Land.
Another online betting platform that made it to the EOS top ranks is the FastWin dApp. Developers say it's a "blockchain + finance" platform, and point out that the dApp protects the privacy of players as they don't need to provide any personal information to start betting.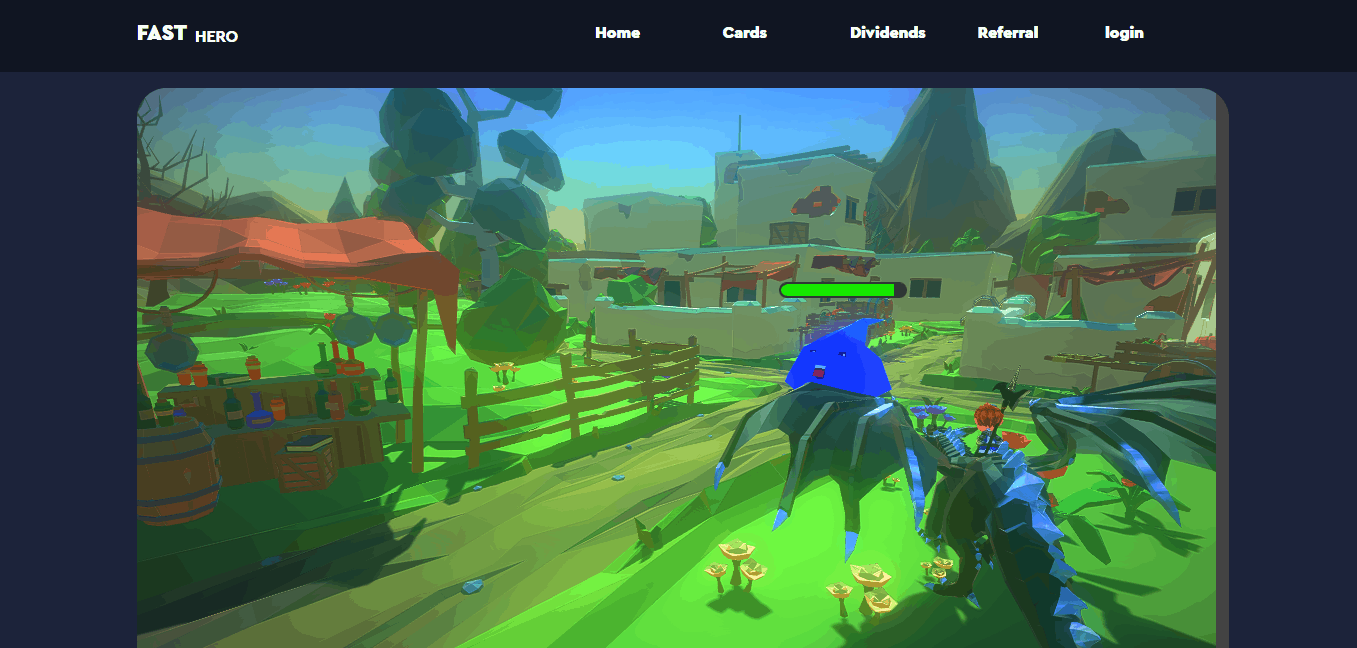 Users can use the EOS cryptocurrency for betting and can obtain FAST tokens through playing. Depending on the number of tokens they have, players will receive a corresponding amount in profit dividend.
BetHash, a lottery game, is one of the simplest forms of betting, as lotteries will probably never go out of style. Even in today's age of cryptocurrencies and blockchain, lottery betting remains as popular as ever. In fact, lottery games have started spreading on the blockchain, such as the BetHash dApp.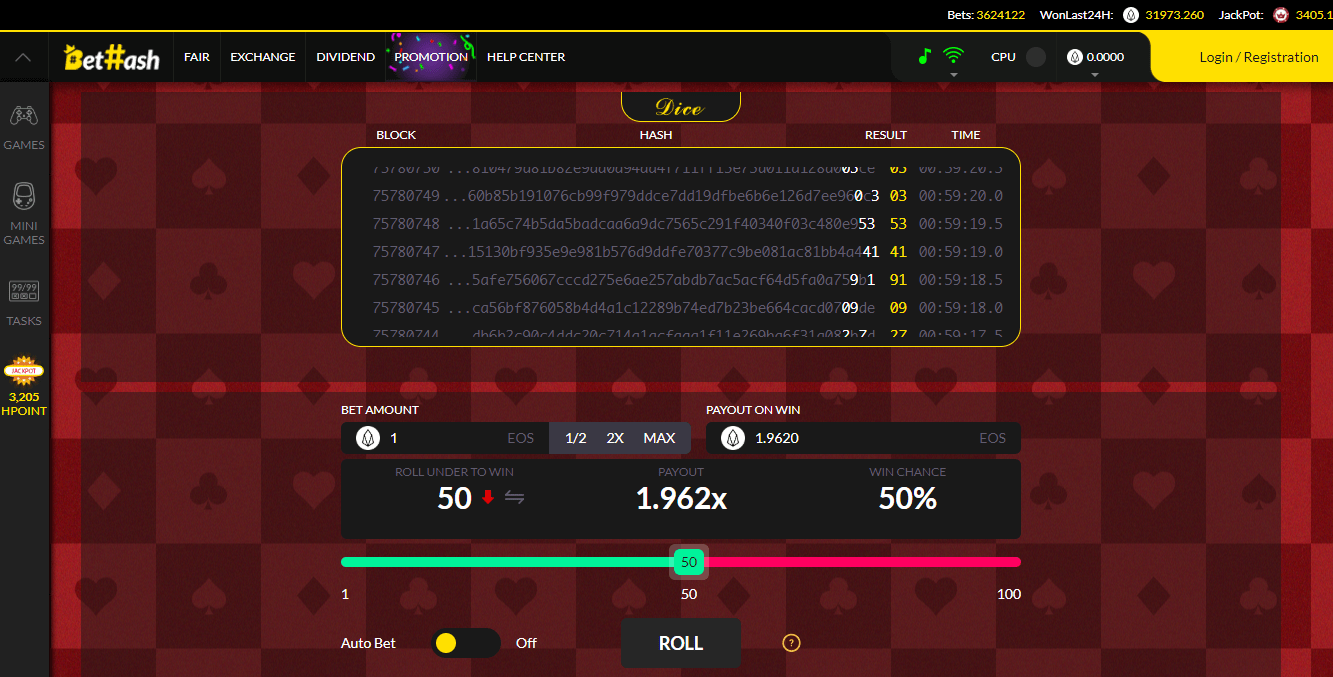 Developers say it is the fairest decentralized crypto casino on the EOS system. According to Trybe, the lottery betting platform has the lowest house edge among its peers, of just 1.9 percent. For comparison, the house edge on many other platforms is around 2 percent.
For those who want to sow good karma, there's a decentralized app for that as well. Aptly named Karma, this app aims to provide incentives for beneficial interactions in the world, which could hopefully convince people to do more good deeds, according to Medium.
According to its site, one can earn Karma (the token) by helping others in need or by being a witness who will validate the good deeds of others. And in case you're wondering, Karma can be shared with friends, family or just about anyone who deserves it.
In QuickWin, players can win in both WIN tokens and EOS in a lottery-style betting dApp where players can pick any number combinations between 1 and 30.
The game will reveal 4 out of 7 numbers every 5 minutes, so the chance of winning increases the more numbers are announced. However, if a round has no winner, the candies (EOS) will be shared among the participants.
For those who are interested to learn more about the game's mechanics and want to give it a try, click on the game's website here.
Update: QuickWin now appears to have closed down and has no active users. While this was one of the most popular Dapps at the time this article was written, this nascent market is changing very quickly, and not all Dapps listed here will survive or maintain their positions as a leading Dapp.
Since its massive ICO offering in 2018, which raised a record US$4 billion, EOS has succeeded in attracting a huge number of developers to its platform. There are now over 500 decentralized applications being built on EOS, across a whole host of industries.
As a result, there has been a growing number of quality dApps being launched or developed on EOS, beginning to rival that of even the Ethereum platform.