Founded in 2013 by Leon Li, a former computer engineer at Oracle, Huobi Global is a digital asset and cryptocurrency exchange headquartered in Singapore. Huobi also has local exchanges in South Korea, Japan, and through its strategic partner, the United States (also under the brand name Huobi).
In 2018, Bloomberg reported that Huobi processed between $600 million and $1.4 billion of volume daily.
The Huobi Group, the parent company of Huobi Global, has also received venture capital finance from prominent Beijing based ZhenFund, and American VC firm Sequoia Capital.
Throughout its five-year trading history, Huobi has traded over US$1.2 trillion in digital assets, and at one time it was the world's leading exchange by volume, capturing 50% of all global trading volume.
Now, with the recent release of Huobi's proprietary coin launch platform, called Huobi Prime, investors could be set to flock to the exchange in droves to catch the hottest new Direct Premium Offering (DPO).
While Huobi Prime, the DPO platform, does share some similarities with initial exchange offerings (IEO) like Binance Launchpad, it is unique in that it is not a fundraising platform, and any coins purchased on the platform are immediately deposited into the users' wallets and tradable on Huobi Global.
In this review, we explore what makes Huobi such a popular exchange, and now that its first DPOs have concluded successfully, we examine Huobi Prime's unique value proposition. First, though, let's dive in and take a look at Huobi's exchange features.
Huobi Global Exchange and Huobi OTC
The Huobi Global exchange is Huobi's main offering, serving traders in 130 countries. Through Huobi Global, traders can access almost 200 crypto and stablecoin assets.
The Huobi Global exchange allows daily withdrawals up to $2,000 for traders who have passed level 1 verification, and a monthly limit of $10,000, which could be considered on the low side compared to some other exchanges.
Huobi's OTC exchange is a novel feature, which although hasn't currently seen anywhere near as much volume as the Huobi Global exchange, is steadily gaining traction. The Huobi OTC exchange allows users to trade funds peer-to-peer, like other decentralized exchanges. The benefits of OTC exchanges are that they don't affect the market price of the underlying asset.
In addition, Huobi Global also caters to margin traders, with fairly reasonable daily loan interest rates of 0.1%, which begins the moment you execute a trade with leverage. Traders can trade with up to 20x leverage on Huobi Global.
Although it took Huobi longer than some of their competitors to offer futures contracts fro cryptocurrency, the exchange now has a good range of futures available for many major crypto assets. 
Futures contracts allow traders to purchase a contract for a long or short position on a particular asset, rather than trading the underlying asset itself. 
At the time of writing, Huobi's futures contracts have processed over 7.5 million USD in just 24 hours, which shows how popular these contracts have become.  
Traders can use Huobi futures to open positions on a range of cryptocurrencies, including Bitcoin, Ethereum, Ripple, EOS, Bitcoin Cash, Litecoin, and also smaller-cap crypto's like Tron, Cardano, and Ethereum Classic. 
If you're a regular futures user, Huobi also have an official community on Telegram and WeChat for traders. 
Announced on June 15 2020, Huobi have also recently introduced bi-quarterly futures contracts during their version 4.2.0 upgrade. 
A new type of derivatives contracts, Huobi's bi-quarterly futures contracts, which allow traders to leverage their positions up to 125x. 
There are nine contracts available, which cover most major cryptocurrencies, over 36 trading pairs – both fiat and crypto pairings. 
The addition of bi-quarterly futures contracts builds out Huobi's existing derivatives options, which also include weekly, bi-weekly, and quarterly futures.
Huobi Exchange Accessibility
Users can download iOS and Android apps to trade on a mobile device. Additionally, Huobi also provides client downloads for their Huobi OTC, Huobi Global and Huobi Chat services. At present, there are no download options for Linux users.
The Huobi exchange has a fair trading fee structure, which is incredibly easy to remember. Every asset traded via Huobi Global is subject to a 0.2% trade fee, for both market makers and takers.
Recently, in January 2019, Huobi Global announced a tiered fee system which offers competitively lower fees for high volume traders. Likewise, exceptional traders on the Huobi Global exchange can become VIP members, which is facilitated through a monthly 'subscription' paid in the Huobi Token, the price of which is determined by VIP membership level. VIP membership gives access to various fee reductions and other benefits.
Huobi Global doesn't charge deposit fees, but like virtually all exchanges, it does charge withdrawal fees, and minimum withdrawal amounts.
Huobi has a history of providing quality customer service. Users of the Huobi exchange can access 24/7 live chat, as well as refer to extensive F.A.Q's via the Huobi help center. Those facing issues can also open a support ticket, to have their issue resolved by a real expert representative.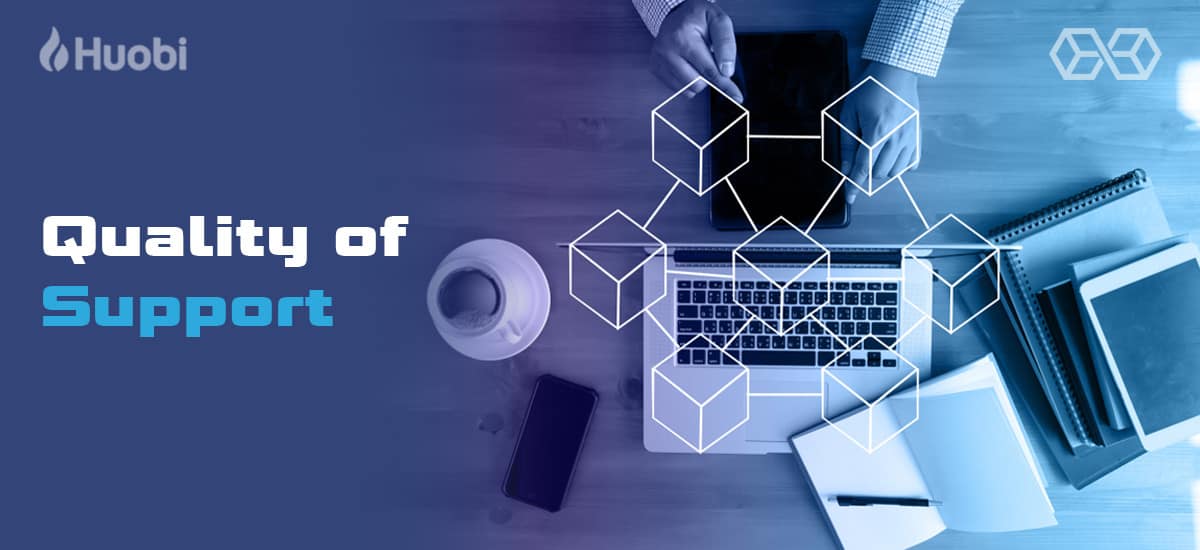 Despite Huobi's Asian roots, it is strongly committed to providing global operations teams, which can support its users in other major countries. Likewise, the Huobi team regularly posts important updates in multiple languages on its dedicated Medium account blog and ZenDesk.
The Huobi Group also has a very active YouTube channel, featuring Huobi Talk, where it posts user tutorials, detailed guides, and cryptocurrency information for traders.
Go to Huobi
Naturally, traders are wary of exchange hacks, with some very notable examples in the past where users of some high-profile exchanges have lost a lot of funds. Luckily, for the users of the Huobi Global exchange, the Huobi Group puts security first, and it does it well.
In terms of attack prevention, Huobi has adopted a decentralized exchange structure, which helps to resist DDOS attacks.
However, as Huobi Global acknowledges, hacks can happen at even the very best cryptocurrency exchanges. However, Huobi has implemented the 'Huobi Security Reserve,' which is a widely supported move, in which Huobi has set aside 20,000 BTC reserved for users who have lost funds either due to hacks, or exchange failures.
This move has been credited by many as an excellent preventative measure which shows Huobi's pro-active approach to risk management.
Built as a competitor to other exchange-backed token launch platforms, such as Binance Launchpad, Huobi Prime offers its users early access to the coins of premium projects, which can be bought using its native cryptocurrency, the Huobi Token.
In an official Medium post, the Huobi team said of its brand new offering:
""Huobi Global is providing a better way to access cutting-edge crypto projects… not just for the deep-pocketed and well connected but also for ordinary retail traders."
Huobi Global Team
,
Huobi.co
So why would investors choose to participate in token sales on the Huobi Prime platform, rather than take part in an independent ICO or an IEO? Here are some of the core and unique features of the platform:

Purchased tokens are immediately deposited into user's accounts, which means they are also available for immediate trading on Huobi Global against Huobi Tokens.
As projects launch exclusively through Huobi Prime from day one, its direct premium offerings are available to retail investors, avoiding private pre-sales, which means all users get assets at the best price.
Tiered price limits on the platform protect both investors and projects from immediate token sale dumps or mass sell-offs. This is also a benefit of immediate trading, which provides better price discovery to new projects.
Investors don't have to worry about poor or scammy projects. Huobi screens projects which apply to launch via Huobi Prime, launching only the very best, brand new projects.
The first project token to launch via Huobi Prime was TOP, the native token of the TOP Network, a full-stack, decentralized cloud communication company.
The TOP sale was successful, to say the least, with the first 300 M TOP coins selling over the Huobi Prime platform in just 7 seconds. The whole token sale, which was released in three stages, lasted only 19 seconds in total, with 3764 participants. Ross Zhang, head of marketing, Tweeted of the success of the sale "300MM $TOP in 7 seconds… This is insane."
300MM $TOP in 7 seconds… This is insane.

— Ross (@ross_zhang) March 26, 2019
Huobi Prime plans to support new high-quality projects continuously, and to participate; investors must hold 500 Huobi Tokens.
Judging by Huobi Prime's two hugely successful launches of the TOP token and NEW token, we expect that other upcoming token launch events are going to see a serious onboarding of new investors. As funds will become immediately available on Huobi Global users exchange accounts, this provides a great entry route and incentive for users to stay on and use the Huobi exchange.
Although daily and monthly withdrawal limits are low, Huobi offers a huge range of assets, and very generous bonuses and fee structures for regular and high volume traders. Huobi Global's plan for the future of its crypto ecosystem look bright and remains today as one of the leading cryptocurrency exchange.
Go to Huobi
Disclosure: Blokt strives to provide transparent, honest reviews, and opinions. The writer of this article is a user of the product(s) or service(s) mentioned in this article and was not influenced by the respective owners.
We rarely run ads, but sometimes earn a small commission when you purchase a product or service via a link on our site. Thank you kindly for your support.
Read more or donate here.